Televangelist Kenneth Copeland says his faith is protecting him from 'creep' coronavirus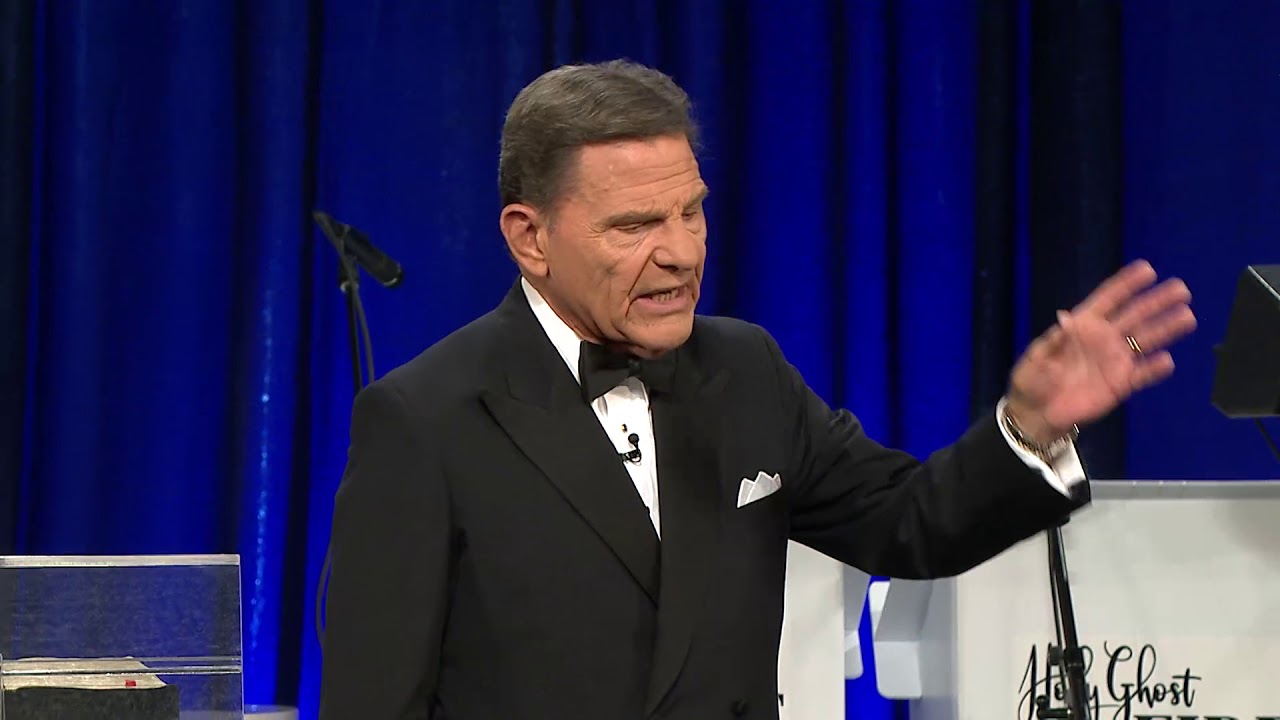 Televangelist Kenneth Copeland said Tuesday that his faith in God is shielding him from the new coronavirus, which he dismissed as a "creep" and the "flu." He also urged born-again Christians to put their angel to work by activating their faith against the disease.
"I'm talking now to Holy Spirit born-again, Holy Spirit baptized, Holy Spirit speaking in other tongues, healing, believing Christians that don't watch anything but COVID-19 on the television. Your faith is idle and dumb," Copeland said.
He warned that repeatedly watching news reports about the pandemic instead of feeding their minds with faith-building content is leading them to make covenants with wrong spirits like fear, leaving them vulnerable to attacks from the devil and little work for their guardian angel.
"Your angel has nothing to do because all you're listening to is the news broadcast, and you're exalting this creep that you have authority over," he said.
"'Oh yes but brother Copeland what happens if I get it?' Well, get healed, dear God!" he declared.
Copeland insisted that Christians who opened the door to fear from the coronavirus will most likely get infected but argued that if they stand in faith against it they won't get sick.
"And you'll get it, yeah you'll get it. You'll draw it into your home. The devil will see to it that you'll get in contact with someone that has it. But when you stand in faith and say, 'No, I don't mind telling you, I will never have COVID-19. I will never have any other kind of sickness and disease because thank God forevermore, He bore my sins in His own body on the tree and He said be dead to sin and live under righteousness by whose stripes I was healed glory to God. I'm not healed now, I was healed then. And grace is given into me now. I'm not the sick trying to get healed. I'm the healed and the devil is trying to give me the flu! Well, I don't take it," he said lifting his arm to his face like a shield.
He also declared that with his faith as his shield, he will not get sick from the coronavirus.
"I have my shield up, thank you very much. Glory to God! You couldn't give me that flu even if you tried."
Copeland, who leads Kenneth Copeland Ministries in Newark, Texas, has been speaking out against coronavirus since the pandemic began. In April, he called forth a "supernatural heatwave" to kill the virus in New York City, which was being ravaged at the time.
As conditions improve in New York City and across New York State, the virus is now exploding across Texas as well as multiple southern and western states.
In an interview with KBTX Wednesday, Gov. Greg Abbott said that Texas reached an all-time high of more than 5,000 new COVID-19 cases and urged residents to stay home whenever possible.
The governor also raised concern that too many Texans aren't taking the virus seriously.
"The first obligation that we have is to make sure people around the state really comprehend the magnitude of the challenge we're dealing with," Abbott said. "There remain a lot of people in the state of Texas who think that the spread of COVID-19 is really not a challenge."
Sources:Christian Post
Texas resumes executions after 5-month delay due to coronavirus pandemic
Texas is set to move forward with the execution of an inmate Wednesday, its first since a five-month delay due to the coronavirus pandemic.
Billy Wardlow, 45, was convicted of capital murder after he fatally shot an 82-year-old man, Carl Cole, in 1993 during a robbery at Cole's home.
Wardlow was 18 at the time. The minimum age a person can receive the death penalty in Texas is 17 years old.
Wardlow's attorney, Richard Burr, told ABC News Wednesday that there are three pending petitions in the Supreme Court that could possibly result in a stay of execution.
He called those petitions "the most serious and hopeful."
One petition, which has been pending since June 10, has to do with the question of predicting future dangers, according to Burr.
In Texas, in order to be sentenced to death, a person has to be deemed someone who is likely to be dangerous in the future.
"You can scientifically know now it was impossible to predict future dangers of an 18-year-old because their brains are still not fully formed," Burr said.
Prosecutors argued that society has long used the age of 18 as the point where it draws the line for many distinctions between childhood and adulthood, according to the Associated Press.
"Wardlow senselessly executed elderly Carl Cole to steal his truck, something that could have been taken without violence because the keys were in it," according to a petition filed with the Supreme Court by the Texas attorney general's office, the AP reported.
The two other petitions involve what Burr described as ineffective counsel and an incorrect waiving of another appeal in state and federal court.
Burr said he has also requested with the Texas Supreme Court to withdraw the execution order because of the risk amid the pandemic and the "huge rise of COVID-19 cases in Texas."
A judge moved Wardlow's execution date from April 29 to July 8 because of the pandemic. Six executions scheduled in Texas for earlier this year were postponed by the courts because of the outbreak.
Texas is among the states that have seen an increase in coronavirus cases, the daily rate of positivity, hospitalizations and deaths, according to an ABC News analysis.
The Texas Board of Pardons and Paroles denied a request to delay Wardlow's execution or commute his sentence to life in prison on Monday, Burr said.
Wardlow's execution time is set for 6 p.m. CST, but can occur any time after that until midnight, according to Robert C. Hurst, a spokesman at the Texas Department of Criminal Justice.
Jason Clark, chief of staff at the state's Department of Criminal Justice, told ABC News the agency can "carry out the process safely for those participating and witnessing the execution."
Witnesses will have their temperature taken, will be provided with a mask and be spaced out, Clark said. No more than five witnesses are allowed for the inmate and victim each, a limit that predates the pandemic.
If carried out, it will be Texas' third execution of the year. The two others took place in Jan. 15 and Feb. 6.
Ivory Coast Prime Minister Amadou Gon Coulibaly Dies After Cabinet Meeting
Ivory Coast's Prime Minister and the governing party's candidate for the October presidential election, Amadou Gon Coulibaly, has died just days after returning from two months of medical treatment in France.
The 61-year-old, who had heart surgery in 2012, became unwell during a weekly cabinet meeting and was taken to a hospital where he passed away on Wednesday, President Alassane Ouattara said in a statement read on national television.
"Fellow compatriots, Ivory Coast is mourning. It is with deep pain that I announce to you that Prime Minister Amadou Gon Coulibaly has left us," Ouattara said in a statement read by the presidency's secretary-general.
Gon Coulibaly had returned to Ivory Coast last Thursday after two months in France to undergo a heart exam and rest.
Gon Coulibaly's death is likely to set off a scramble within the governing RHDP party to replace him as its candidate in an election that is considered a key test of stability for the world's top cocoa producer.
Ouattara's first win in 2010 over incumbent Laurent Gbagbo sparked a brief civil war in which about 3,000 people died, and political tensions have been rising ahead of October's poll.
Ouattara designated Gon Coulibaly as the RHDP candidate in March after announcing he would not seek a third term.
Gon Coulibaly sought medical care in France in May, saying it was only for a checkup. He was allowed to travel abroad despite Ivory Coast's airports being closed due to the coronavirus pandemic.