Televangelist Kenneth Copeland says his faith is protecting him from 'creep' coronavirus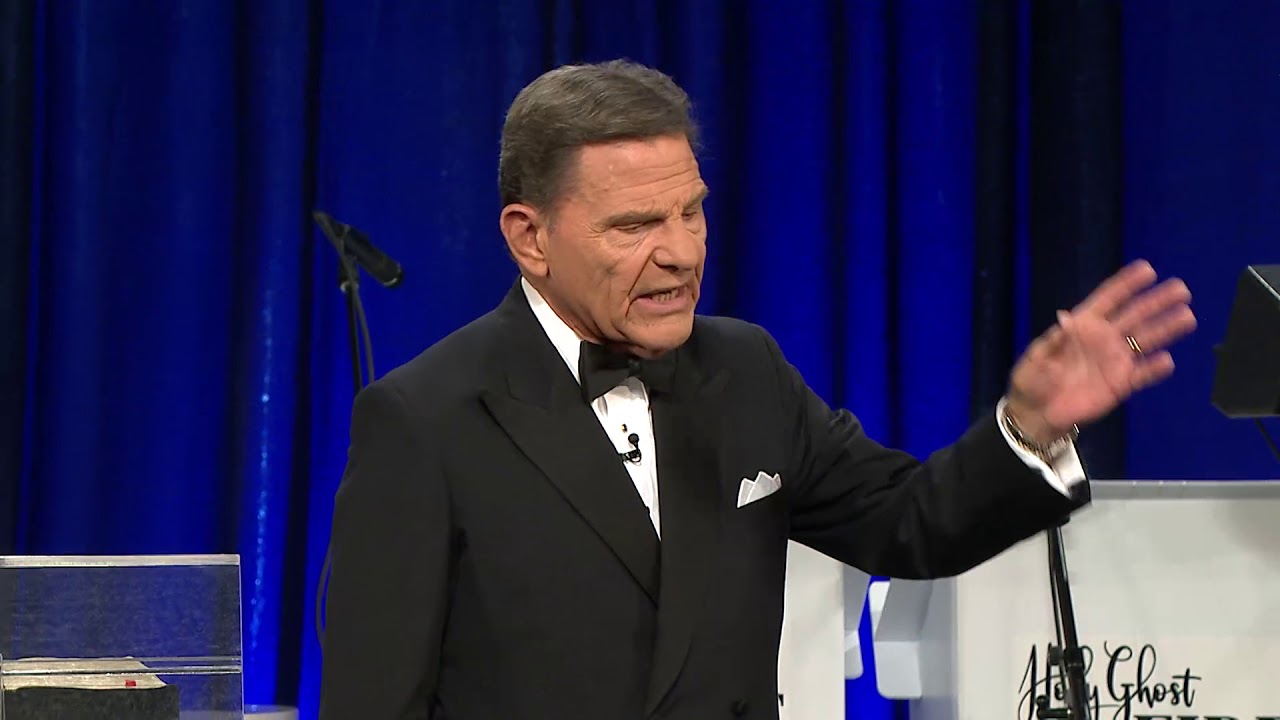 Televangelist Kenneth Copeland said Tuesday that his faith in God is shielding him from the new coronavirus, which he dismissed as a "creep" and the "flu." He also urged born-again Christians to put their angel to work by activating their faith against the disease.
"I'm talking now to Holy Spirit born-again, Holy Spirit baptized, Holy Spirit speaking in other tongues, healing, believing Christians that don't watch anything but COVID-19 on the television. Your faith is idle and dumb," Copeland said.
He warned that repeatedly watching news reports about the pandemic instead of feeding their minds with faith-building content is leading them to make covenants with wrong spirits like fear, leaving them vulnerable to attacks from the devil and little work for their guardian angel.
"Your angel has nothing to do because all you're listening to is the news broadcast, and you're exalting this creep that you have authority over," he said.
"'Oh yes but brother Copeland what happens if I get it?' Well, get healed, dear God!" he declared.
Copeland insisted that Christians who opened the door to fear from the coronavirus will most likely get infected but argued that if they stand in faith against it they won't get sick.
"And you'll get it, yeah you'll get it. You'll draw it into your home. The devil will see to it that you'll get in contact with someone that has it. But when you stand in faith and say, 'No, I don't mind telling you, I will never have COVID-19. I will never have any other kind of sickness and disease because thank God forevermore, He bore my sins in His own body on the tree and He said be dead to sin and live under righteousness by whose stripes I was healed glory to God. I'm not healed now, I was healed then. And grace is given into me now. I'm not the sick trying to get healed. I'm the healed and the devil is trying to give me the flu! Well, I don't take it," he said lifting his arm to his face like a shield.
He also declared that with his faith as his shield, he will not get sick from the coronavirus.
"I have my shield up, thank you very much. Glory to God! You couldn't give me that flu even if you tried."
Copeland, who leads Kenneth Copeland Ministries in Newark, Texas, has been speaking out against coronavirus since the pandemic began. In April, he called forth a "supernatural heatwave" to kill the virus in New York City, which was being ravaged at the time.
As conditions improve in New York City and across New York State, the virus is now exploding across Texas as well as multiple southern and western states.
In an interview with KBTX Wednesday, Gov. Greg Abbott said that Texas reached an all-time high of more than 5,000 new COVID-19 cases and urged residents to stay home whenever possible.
The governor also raised concern that too many Texans aren't taking the virus seriously.
"The first obligation that we have is to make sure people around the state really comprehend the magnitude of the challenge we're dealing with," Abbott said. "There remain a lot of people in the state of Texas who think that the spread of COVID-19 is really not a challenge."
Sources:Christian Post
France attack: Three killed in 'Islamist terrorist' stabbings
Three people have died in a knife attack at a church in Nice, in what French President Emmanuel Macron said was an "Islamist terrorist attack".
He said France would not surrender its core values after visiting the Notre-Dame basilica in the southern city. An extra 4,000 troops are being deployed to protect churches and schools.
In Nice, one elderly victim was "virtually beheaded", officials said. Another woman and a man also died.
A male suspect was shot and detained.
Anti-terror prosecutors have opened an investigation into the attack and France has raised its national security alert to its highest level.
French anti-terrorist prosecutor Jean-François Ricard later said the attacker was seriously wounded by police.
Mr Ricard said the suspect was a 21-year-old Tunisian national who had arrived in France earlier this month. He had a document issued by the Italian Red Cross.
Police sources earlier named the attacker as Brahim Aioussaoi. They said he had travelled by boat from Tunisia to the Italian island of Lampedusa in September. He was placed in coronavirus quarantine there before being released and told to leave Italy.
Nice Mayor Christian Estrosi spoke of "Islamo-fascism" and said the suspect had "repeated endlessly 'Allahu Akbar' (God is greatest)".
Two other attacks took place on Thursday, one in France and one in Saudi Arabia.
A man was shot dead in Montfavet near the southern French city of Avignon after threatening police with a handgun.
A guard was attacked outside the French consulate in Jeddah in Saudi Arabia. A suspect was arrested and the guard taken to hospital.
Speaking after visiting Nice, President Macron said: "If we are attacked once again it is for the values which are ours: freedom, for the possibility on our soil to believe freely and not to give in to any spirit of terror.
"I say it with great clarity once again today: we won't surrender anything."
The president said the number of soldiers being deployed to protect public places across the country would rise from 3,000 to 7,000.
Mr Estrosi compared the attack to the recent murder of teacher Samuel Paty, who was beheaded close to his school outside Paris earlier this month.
Police have not suggested a motive for the attack in Nice. However, it follows days of protests in some Muslim-majority countries triggered by President Macron's defence of the publication of cartoons that depicted the Prophet Mohammed. There have been calls in some countries for a boycott of French goods.
All three were attacked inside the basilica on Thursday morning before the first Mass of the day.
Two died inside the church: a 60-year-old woman who was "virtually beheaded", and a 55-year-old man whose throat was cut.
The male victim was a lay member of staff responsible for the upkeep of the church. He reportedly had a wife and two children.
Another woman, aged 44, managed to flee to a nearby cafe after being stabbed several times, but died later.
It later emerged that a witness had managed to raise the alarm with a special protection system set up by the city.
Chloe, a witness who lives near the church, told the BBC: "We heard many people shouting in the street. We saw from the window that there were many, many policemen coming, and gunshots, many gunshots."
Tom Vannier, a journalism student who arrived at the scene just after the attack, told the BBC that people were crying on the street.
Four police officers arrived at the scene at 08:57 local time (07:57 GMT) and the attacker was shot and detained shortly afterwards, the French anti-terrorist prosecutor said.
Four years ago Nice was the scene of terrorist attack, when a Tunisian drove a truck into crowds celebrating Bastille Day on 14 July, killing 86 people.
Sourcves:BBC News
തുര്‍ക്കിയില്‍ ഭൂചലനം : മരണസംഖ്യ 22 ആയി ; സുനാമി ഭീതിയില്‍ രാജ്യം
അങ്കാറ: തുര്‍ക്കിയില്‍ ഏജിയന്‍ തീരത്ത് ഉണ്ടായ ഭൂചലനത്തില്‍ മരണസംഖ്യ 22 ആയി. മരണനിരക്ക് വര്‍ദ്ധിക്കുമെന്നാണ് റിപ്പോര്‍ട്ടുകള്‍ സൂചിപ്പിക്കുന്നത്.ശക്തമായ ഭൂചലനത്തില്‍ 200ലധികം ആളുകള്‍ക്ക് പരിക്കേറ്റിട്ടുണ്ട്. ഗ്രീക്ക് ദ്വീപായ സാമോസിന് വടക്കുഭാഗത്തായാണ് ഭൂകമ്ബമാപിനിയില്‍ തീവ്രത 7.0 രേഖപ്പെടുത്തിയ വന്‍ഭൂചലനമുണ്ടായതെന്നാണ് ഉദ്യോഗസ്ഥര്‍ വ്യക്തമാക്കിയത്.
പടിഞ്ഞാറന്‍ ഇസ്മിര്‍ പ്രവിശ്യയുടെ തീരത്തു നിന്ന് 17 കിലോമീറ്റര്‍ മാറിയാണ് ഭൂകമ്ബത്തിന്‍്റെ പ്രഭവകേന്ദ്രമെന്നും ദൂരപ്രദേശങ്ങളായ ഏതന്‍സിലും ഇസ്താംബൂളിലും ഭൂചലനം അനുഭവപ്പെട്ടതായും യുഎസ് ജിയോളജിക്കല്‍ സര്‍വേ അറിയിച്ചതായി ബിബിസി ന്യൂസ് റിപ്പോര്‍ട്ട് ചെയ്തു. ഭൂകമ്ബത്തില്‍ തകര്‍ന്ന കെട്ടിടങ്ങളുടെ ചിത്രങ്ങള്‍ തുര്‍ക്കി മാധ്യമങ്ങള്‍ പുറത്തു വിട്ടിട്ടുണ്ട്.
ഭൂകമ്ബങ്ങള്‍ ഗ്രീസിലും തുര്‍ക്കിയിലും ഇടയ്ക്കിടെ റിപ്പോര്‍ട്ട് ചെയ്യാറുണ്ടെങ്കിലും ഇത്ര തീവ്രമായ ചലനം അപൂര്‍വമാണ്. കെട്ടിടാവശിഷ്ടങ്ങള്‍ക്കിടയില്‍ തെരച്ചില്‍ നടത്തുന്നവരുടെ ദൃശ്യങ്ങള്‍ സോഷ്യല്‍ മീഡിയയില്‍ പ്രചരിക്കുന്നുണ്ടെങ്കിലും വിവരങ്ങള്‍ സ്ഥിരീകരിക്കാന്‍ കഴിഞ്ഞിട്ടില്ലെന്ന് ബിബിസി വ്യക്തമാക്കി.