Documentary film focusing on the Hollywood star's journey to Christianity
California: Hollywood star TC Stallings has become a firm believer in a documentary film. The film is titled '24 Counter: The Story Behind the Run '. The film features the star of a football fanatic and a desire to monetize.
Stallings was born in a land where drug dealers and gangsters were comfortable. From an early age, he wanted to be a football player, but his focus was always on football. Football became the god of Stallings. That means getting into a good college,TC Stallings says he thought he could make money for his family and build a good career. Though he was admitted to college, he came to realize that God is the most important thing in life.
God transformed footballers into a tool for his life. Stallings explained at that time that it was understood that God is the owner of our lives, not football, and that the Holy Spirit should control our actions.He hoped that the documentary would be the beginning of new projects. He added that he must make decisions in life, not by what people say, but by what God says and that is how all Christians should go.
Amazon's top-selling Christian romance film 'The Farmer and The Belle' announces sequel
Orlando — Actress Jenn Gotzon and her actor-producer husband, Jim E. Chandler, announced that their Christian rom-com "The Farmer and The Belle" will have a second installment following its success on Amazon.
"The Farmer and The Belle: Saving Santaland" was released on DVD in November 2020 and spent six weeks on Amazon under "Best Sellers in Romance" for new releases. The faith-based film stayed in the top 10 for six weeks. Part one featured Gotzon , Chandler ("Drop Dead Diva"), John Schneider ("The Dukes of Hazzard") and others.
The husband-wife duo first announced the sequel of their hit movie while on a panel for marketing and distribution at the International Christian Film and Music Festival (ICFF) last month. Later, they shared a few more details regarding the film.
"After being, by God's grace, a bestseller in romance on Amazon for six weeks, we saw the ministry hit, so we're going to do a sequel, the 'Farmer and the Belle 2,'" Gotzon told during a red carpet interview.
Chandler noted that the film is already in development.
Part one of "The Farmer and The Belle" was inspired by a true story that illustrates the beauty of embracing one's identity in God and how that leads to the true pathway to love. The sequel will venture into how to have a fruitful marriage.
"It's about having a fulfilling marriage based on psychological and biblical values," Gotzon told.
The Christian romance film is targeting women ages 34 to 54 and up. According to prlog.org, the second installment follows "newlyweds, fashion model Belle (Gotzon) and the small-town farmer (Chandler) from the first movie."
"The Farmer and the Belle" will be a Christmas movie that will "take place on a snowy ski mountain and a southern farm where the two discover that sometimes it takes a cow, a pig and a farmer's daughter to find love and respect in marriage."
The end credits will feature a surprise visitor, the Chandlers' newborn son, baby James.
As 2020 saw the end of many marriages among nonbelievers and Christians alike, Gotzon said it's important for couples to have three loves for each other when in a relationship.
"When we first started dating, this pastor, Pastor David, explained you have three loves from the Bible. Raya, Ahava and Dod. Raya is friendship. Ahava is that forever loyalty, and Dod is the passion which is 'ooh la la,'" she explained.
The terms for love come from the Old Testament Scriptures and are primarily used in the Hebrew language. Each word expressed different types of love.
"When you have all three of those loves burning together under God's flame, that's the composition of what makes true love within a marriage," Gotzon. "So that's what we have to strive for in a marriage."
Satanic song from Cyprus for Eurovision music competition: Believers in protest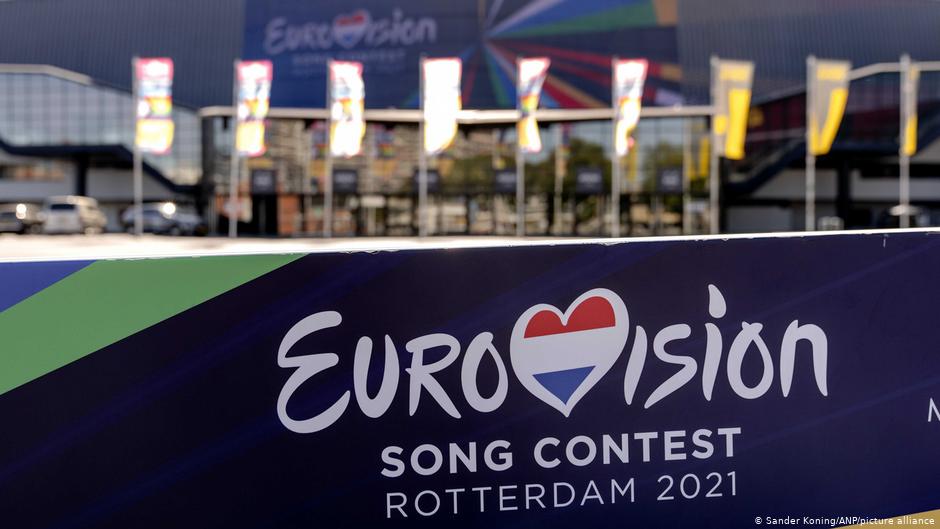 Several dozen Orthodox Christian faithful and clergy members held up wooden crucifixes, icons of saints and a banner declaring Cyprus' love for Christ in a renewed protest Wednesday over the island nation's entry in the Eurovision Song Contest, which they contend promotes Satan worship.
The protest, held opposite the gates of the offices of state broadcaster RIK, was the second against the song "El Diablo" staged by Christians who argue the number has no place as the national song of Cyprus in the contest because of what they say is its brazen invitation to embrace the devil.
Both RIK and singer Elena Tsagrinou, who represents Cyprus in the contest underway this week in the Netherlands, say critics have misinterpreted the lyrics of "El Diablo" and that it's actually about an abusive relationship between two lovers.
The song passed its first competition hurdle during a Tuesday semifinal and made it into the contest's final round, set for Saturday in Rotterdam.
The people protesting Wednesday saw that as no cause for celebration, insisting that "El Diablo" is an affront to Cypriots' Orthodox faith.
"This song doesn't represent Cyprus. It doesn't honor it. It insults Cyprus, it desecrates Cyprus and is dangerous, my good Orthodox Christians," an unnamed clergyman said into a microphone while addressing the demonstrators. "It's dangerous to our children, to our families. There is no chance that the devil can do any good to anyone."
The Cypriot government has said that while dissent is respected, freedom of expression cannot be quashed.
The powerful Orthodox Church of Cyprus called for the withdrawal of the song in March, saying it mocked the Mediterranean island nation's moral foundations by advocating "our surrender to the devil and promoting his worship."
Devil worship
The Church's highest decision-making body, the Holy Synod, urged the state broadcaster to replace it with one that "expresses our history, culture, traditions and our claims."
Police also charged a man with uttering threats and causing a disturbance when he barged onto the grounds of the public broadcaster to protest what he condemned as a "blasphemous" song.
Tsagrinou played down the controversy. She said "El Diablo," which she performs flanked by four dancers in skin-tight red costumes, is about an abusive relationship and has nothing to do with devil worship.
She said dealing with COVID-19 restrictions was tough while preparing for the contest, "but that's not going to keep us back, and we're going to feel the vibe that we want to feel and the smile on our face."
Sources:euronews