Donald Trump signs executive order against hiring H-1B visa holders for federal contracts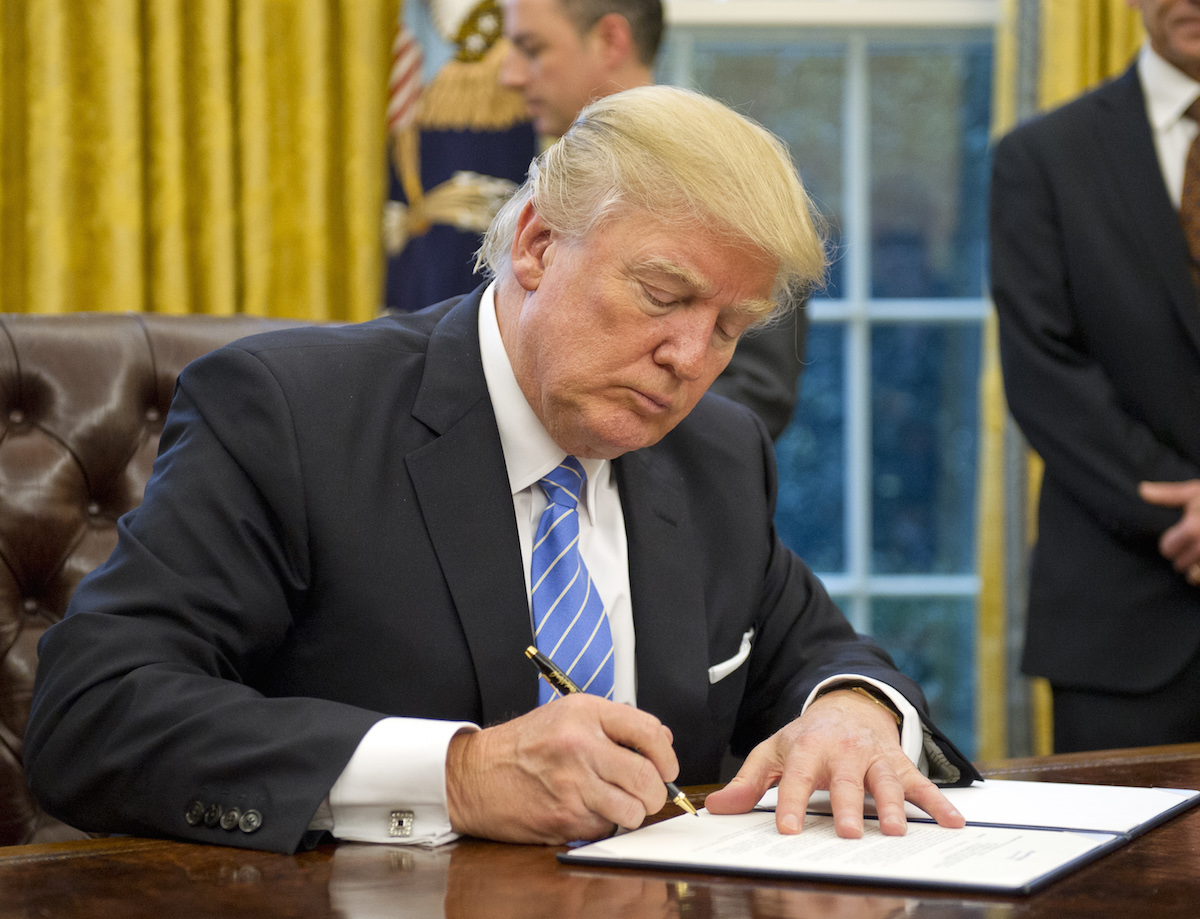 In a huge blow to Indian IT professionals eyeing the US job market, President Donald Trump on Monday signed an executive order preventing federal agencies from contracting or subcontracting foreign workers — mainly those on H-1B visa — from hiring.
The move came over a month after the Trump administration in June 23 suspended the H-1B visas along with other types of foreign work visas until the end of 2020 to protect American workers in a crucial election year. The new restrictions took effect from June 24.
The H1B visa, most sought-after among Indian IT professionals, is a non-immigrant visa that allows US companies to employ foreign workers in speciality occupations that require theoretical or technical expertise.
The technology companies depend on it to hire tens of thousands of employees each year from countries like India and China.
"Today I am signing an executive order to ensure that the federal government lives by a very simple rule, higher American," Mr. Trump told reporters in the Oval Office of the White House before signing the order against hiring H1B visa holders for federal contracts.
Mr. Trump told reporters that his administration will not tolerate firing of hardworking Americans in the pursuit of cheap foreign labour.
"As we speak, we're finalising the H-1B regulation so that no American workers be replaced ever again. H-1B should be used for top highly paid talent to create American jobs, not as inexpensive labour programmes and destroy American jobs," said the president who was surrounded across the Cabinet Room table with individuals campaigning against job outsourcing.
Prominent among them were Sara Blackwell, founder and president of Florida-based Protect US Workers organisation; Jonathan Hicks, a software engineer in the Tennessee Valley Authority; and Kevin Lynn, founder of Pennsylvania-based US Tech Workers.
The executive order requires all federal agencies to complete an internal audit and assess whether they are in compliance with the requirement that only US citizens and nationals are appointed to the competitive service. As a result, the Department of Labour will also finalise guidlines to prevent H-1B employers from moving H-1B workers to other employers' job sites to displace Americans workers.
TVA
Mr. Trump's order follows the federally-owned Tennessee Valley Authority's (TVA) announcement that it will outsource 20% of its technology jobs to companies based in foreign countries.
TVA's action could cause more than 200 highly-skilled American tech workers in Tennessee to lose their jobs to low-wage, foreign workers hired on temporary work visas, the President said.
Outsourcing hundreds of workers is especially detrimental in the middle of a pandemic, which has already cost millions of Americans their jobs, the White House said in a statement.
Given the current climate of rampant intellectual property theft, outsourcing IT jobs that involve sensitive information could pose a national security risk, it said.
According to the White House, Mr. Trump's actions will help combat employers' misuse of H-1B visas, which were never intended to replace qualified American workers with low-cost foreign labour.
One of the participants present during the signing of the order told the President that as many as 70% of the H-1B visa goes to people from India.
Mr. Trump said he favours a merit-based immigration system that brings in high-skilled people that creates jobs inside the US and not take jobs of Americans.
"We are going to be discussing very shortly an immigration bill, which covers this and many other things. It will be a very, very comprehensive bill. It's a word that some people love, and some people hate. But it'd be very comprehensive only in the sense that it covered just about everything. It will be based on merit. It will cover territory that nobody would have thought could have ever been agreed to," Mr. Trump said.
The bill, he said, will be signed after the convention.
"Immigration will be very merit based, but it'll be, it'll be great for the worker. And it'll be great for people coming into our country, but coming into our country legally and loving the country and wanting to help our country as opposed to people coming in. And they don't like our country," Mr. Trump said.
A 9-year-old boy who went hunting with his father has died.
Nebraska: The Lancaster County Sheriff's Office said a 9-year-old Seward boy was killed in a hunting accident near Branched Oak Lake on Sunday morning.
The accident happened near NW 98th Street and West Davey road about 7:40 a.m.
LSO said the young boy accidentally shot himself while pheasant hunting with his father.
Authorities said Gunnar Holte, 9, was shooting at a bird, went to reload a shotgun, and the gun fired.
The father said he turned around and saw his son had fallen.
An off-duty Lincoln Police officer was also in the area hunting and tried to help the boy.
The child was taken to the hospital where life-saving measures were not successful, LSO said.
Christian orgs in China drop 'Jesus' from book titles to circumvent internet censorship
Internet censorship targeting Christians in China has become so severe that even official government-sanctioned Christian groups are now using the Chinese pinyin initials "JD" to replace Chinese characters for "Christ," according to U.S.-based China Aid.
Two official government-sanctioned religious organizations — the Christian Council of China and the Committee of the Three-Self Patriotic Movement of the Protestant Churches of China — have updated titles and descriptions of all their books on "Tianfengshuyuan," their official WeChat book store, reported China Aid, which exposes abuses and promotes religious freedom, human rights and the rule of law in China.
"In their official WeChat store, not only 'Christ' becomes 'JD,' 'Jesus' also becomes 'YS,' and 'Bible' becomes 'SJ,'" wrote Fuzeng Xing, dean of Chung Chi Seminary of Chinese University of Hong Kong, on his Facebook page, the group noted.
On March 30, 2018, the "Holy Bible" was removed from all online booksellers across China, including Taobao, Jingdong, WeChat store, Dangdang, Amazon China, and other online platforms.
As a result, many online religious bookstores have shut down.
Bitter Winter, a publication that monitors religious liberty violations in China, reported earlier this month that Chinese Communist Party officials in Luoyang, a prefecture-level city in Henan's central province, searched a local printing house for banned religious materials.
"Any religious content makes the issue political, not religious. Although banners on the streets say people are allowed religious beliefs, the only faith they can practice freely is that in the Communist Party," a store manager told Bitter Winter.
Because inspections are "too rigorous," the manager said he refuses to print religious materials. "They checked my storehouse, scrutinized all records, and even looked at paper sheets on the floor to see if they have prohibited content. If any such content is found, I'll be fined, or worse, my business will be closed."
Last month, a Chinese Christian online bookstore owner was sentenced to seven years in prison and fined nearly $30,000 for engaging in what the regime deems as "illegal business operations."
Persecution watchdog International Christian Concern reported at the time that in September 2019, Chen Yu, who operated his online bookstore in Zhejiang province's Taizhou city, was detained for selling unapproved religious publications imported from Taiwan, the U.S., and other countries.
He was sentenced to seven years in prison and fined 200,000 RMB ($29,450), according to a document from the People's Court of Linhai City, shared by Father Francis Liu from the Chinese Christian Fellowship of Righteousness.
In 2018, the Chinese government banned the sale of Bibles at online bookstores across the country to comply with a "white paper" that dictated compliance with the "core values of socialism."
Australia's ABC News reported at the time that copies of the Gospels had been removed from online retailers following the release of a regime document, titled "China's Policies and Practices on Protecting Freedom of Religious Belief."
The white paper declared that Chinese faith communities "should adhere to the direction of localizing the religion, practice the core values of socialism, develop and expand the fine Chinese tradition and actively explore the religious thought which accords with China's national circumstances."
China is ranked as one of the worst countries in the world when it comes to the persecution of Christians, according to Open Doors USA's World Watch List.
The communist regime's crackdown on religious freedom has also led the U.S. State Department to label it as a "country of particular concern" for "continuing to engage in particularly severe violations of religious freedom."
In a recent interview with The Christian Post, U.S. Secretary of State Pompeo said it is "certainly the case that the Chinese Communist Party [engages in] efforts to stamp out religious freedom every place that they find."
Sources:Christian Post