Lifelight Ministries invitation to Divine Family Webinar Series
Lifelight Ministries aims to minister among youth with a clear objective of transforming young lives for the glory of God. It has been our constant endeavour to share the joy of walking in the love of Jesus Christ. On behalf of Lifelight Ministries, it gives me immense pleasure to bring to you 'Divine Family Webinar Series'.
You are invited to join the 8-part online Family Enrichment programme held every Saturday from 08:00 pm to 9:30 pm, October 31, 2020 – December 19th, 2020 via Zoom. The sessions will be led by Dr. Chacko Mathai, Family Counsellor and Psychologist who has a rich experience of more than 18 years of counselling 2500+ families in various corporate/ formal and informal set-ups, along with his wife Mrs. Molly Chacko who will be enlightening us on the following components:
 Foundation of Marriage
 Expression of Love
 Resolving Conflicts
 Effective Communication
 Forgiveness in Marriage
 Healthy Sexual Relationship
 Question and Answer Session
Post the positive feedback and life-changing testimonies of various couples received after the successful completion of the Family Enrichment 8-part web series in Malayalam, we are greatly inspired to extend the reach and replicate the same in English and Hindi as well.
This opportunity will prove equally beneficial for both married couples and even those preparing for the same. The sessions, purely intended at impacting many more lives, will be conducted completely free of cost.
Looking forward to your valuable presence and participation. Please do feel free to share this information to anyone who might be interested.
Zoom Id – 774485940490
Rev. Finny George (President) +91 7986320233
Pr. Biju Thankachen (Vice-President) +91 7558080069
Bro. Lijo Reji (General Coordinator) +91 9311252922
Gali No 1, Guru Nanak Nagary, Muktsar, Muktsar, Punjab, India – 152026
Contact: +91 7986320233, 91 7558080069, +91 9886652142
Email:[email protected],
www.Lifelight.in
അൽ-അക്സാ പള്ളി അക്രമത്തില്‍ ഇസ്രയേലിന് ഹമാസിന്‍റെ മുന്നറിയിപ്പ്
റംസാന്‍ മാസത്തിലെ അവസാനത്തെ വെള്ളിയാഴ്ച വിശുദ്ധഭൂമിയില്‍ ഇസ്രയേല്‍‌ നടത്തിയ അക്രമത്തിനെതിരെ ലോക സമൂഹം ഒറ്റക്കെട്ടായി പ്രതിഷേധിച്ചു. ഇസ്ലാം മതത്തെ സംബന്ധിച്ച് മൂന്നാമത്തെ ഏറ്റവും വിശുദ്ധ സ്ഥലമാണ് അൽ-അക്സാ പള്ളി സംയുക്തം. ഈ സ്ഥലം യഹൂദന്മാരുടെയും ഏറ്റവും പുണ്യസ്ഥലമാണ്, അവർ ഇതിനെ ക്ഷേത്ര പര്‍വ്വതം എന്ന് വിളിക്കുകയും വേദപുസ്തക ക്ഷേത്രങ്ങൾ നിലകൊള്ളുന്ന സ്ഥലമായി അതിനെ ആരാധിക്കുകയും ചെയ്യുന്നു. ക്രിസ്തുമതവും ഈ പ്രദേശത്തെ വുശുദ്ധമായ ആരാധിക്കുന്നു. എന്നാല്‍ ഇന്ന് ഇസ്രായേൽ-പലസ്തീൻ അക്രമത്തിന്‍റെ ഒരു പ്രധാന കേന്ദ്രമാണ് ഈ വിശുദ്ധ പ്രദേശം. ഇന്നലെ രാത്രിയില്‍‌ അൽ-അക്സാ പള്ളിക്ക് സമീപം എന്താണ് സംഭവിച്ചതെന്ന കാര്യത്തില്‍ ഇപ്പോഴും ആശയകുഴപ്പം നിലനില്‍ക്കുകയാണ്. വിശുദ്ധമാസത്തിലെ അവസാന വെള്ളിയാഴ്ച രാത്രി ഏതാണ്ട് 70,000 ത്തോളം പാലസ്തീനികള്‍ അൽ-അക്സയിൽ നടന്ന റമദാൻ പ്രാർത്ഥനയിൽ പങ്കെടുത്തതായി സൈറ്റിന്റെ മേൽനോട്ടം വഹിക്കുന്ന ഇസ്ലാമിക് എൻ‌ഡോവ്‌മെന്‍റ് അറിയിച്ചു. വിശാലമായ ആ കുന്നില്‍ മുകളില്‍ രാത്രിയിലുണ്ടായ അക്രമത്തില്‍ 200 ല്‍ പരം സാധാരണക്കാര്‍ക്ക് പരിക്കേറ്റു. രണ്ട് പേര്‍ മരിച്ചു. പരിക്കേറ്റവരിൽ 88 പേരെ ആശുപത്രിയിൽ പ്രവേശിപ്പിച്ചതായി പലസ്തീൻ റെഡ് ക്രസന്‍റ് എമർജൻസി സർവീസ് പറഞ്ഞു. അക്രമത്തില്‍‌ 17 ഇസ്രയേല്‍ പൊലീസുകാര്‍ക്ക് പരിക്കേറ്റതായി ഇസ്രായേൽ പൊലീസും പറയുന്നു.
Sources:asianetnews
Anti-Conversion Law Cripples Another Family in Madhya Pradesh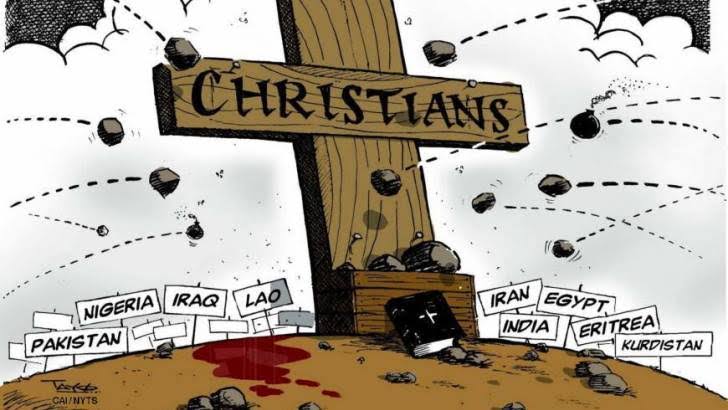 India – On April 4, 2021, Madhya Pradesh police sheltered a pastor and his family from a murderous mob of 300 Hindu radicals.
According to Morning Star News, Pastor Manu Damor and his wife, Asha finished the Easter evening service when five men began interrogating him and his family and became irritated when Pastor Manu refused them. Later, 300 Hindu extremists attacked the family and four other couples.
Some men started destroying the motorbike, and others broke through the windows, attacking the family's home, other men tearing off the roof to get inside. "We will kill you and send your dead bodies from here," one of the Hindu extremists said. Police came in time to stop the mob from burning the house down.
Police detained the family inside the police station for their safety. However, members of the mob harassed the police and filed a false First Information Report (FIR) claimed the pastor and his wife bribed Leela Bai to become a Christian. With no other evidence, police charged the couple under the Madhya Pradesh Freedom of Religious Ordinance, 2020, now known as the Madhya Pradesh Freedom of Religion Act, 2021. The law criminalizes religious conversions by "misrepresentation, force, undue influence, coercion, inducement (or allurement) or by any fraudulent means or by marriage."
Pastor Manu and his wife were not aware of the claims against them nor informed of the charges until brought before a magistrate. They had their three small children with them at the time, 4, 5, and 18 months old. For two weeks, Asha sat in a cell with 23 other prisoners until finally, on April 12, she posted bail and returned to her children. The Session Court, Morning Star News said, refused bail for Pastor Manu and will assign him a new lawyer.
The Christian community does not trust the police to protect them, believing that the police will side with the Hindu extremists to avoid conflict.
Sources:persecution