Los Angeles County lifts ban on indoor worship after Supreme Court rulings
Los Angeles County recently announced that it was allowing houses of worship to hold both indoor and outdoor services, reversing an earlier ban on indoor services.
In a statement Saturday, the county government explained that the decision to allow the services comes due to recent legal decisions from the United States Supreme Court.
"Places of worship are permitted to offer faith-based services both indoors and outdoors with mandatory physical distancing and face coverings over both the nose and mouth that must be worn at all times while on site," stated the county.
"Places of worship must also assure that attendance does not exceed the number of people who can be accommodated while maintaining a physical distance of six feet between separate households."
The county went on to recommend that "places of worship continue to hold services outdoors, with physical distancing and the use of face coverings to prevent the spread of COVID-19 to congregants and to the entire community."
"Because Los Angeles County is experiencing an unprecedented surge of COVID-19 cases, hospitalizations, and deaths, every effort to prevent the spread of COVID-19 to congregants and to the entire community is critical," it added.
Last week, the U.S. Supreme Court issued two orders in which it overturned state-level restrictions on in-person worship in Colorado and New Jersey, respectively.
The two orders were for the cases of Robinson v. Murphy and High Plains Harvest Church v. Polis, which involved congregations challenging state limits on worship gatherings.
For the Polis case, which centered on Colorado, Justice Elena Kagan dissented from the order, being joined by Justices Stephen Breyer and Sonia Sotomayor.
"I respectfully dissent because this case is moot. High Plains Harvest Church has sought to enjoin Colorado's capacity limits on worship services. But Colorado has lifted all those limits," dissented Kagan.
"Absent our issuing different guidance, there is no reason to think Colorado will reverse course—and so no reason to think Harvest Church will again face capacity limits."
Both orders cited the case of Roman Catholic Diocese of Brooklyn v. Cuomo, which centered on New York state restrictions on worship gatherings.
In Brooklyn v. Cuomo, the Supreme Court ruled 5-4 to temporarily block religious gathering limits by New York, concluding that they unfairly hindered religious practice.
"Members of this Court are not public health experts, and we should respect the judgment of those with special expertise and responsibility in this area. But even in a pandemic, the Constitution cannot be put away and forgotten," stated the Per Curiam ruling.
"The restrictions at issue here, by effectively barring many from attending religious services, strike at the very heart of the First Amendment's guarantee of religious liberty."
In order to curb the rising spread of the coronavirus, California enacted several controversial measures for any county that has a high infection rate.
These have included prohibiting indoor worship, congregational singing, Bible studies, and other limits that have led to legal action by several California pastors and churches.
Earlier this month, a Catholic priest who oversees multiple churches in California and sued the state over the restrictions was given temporary relief by a judge.
Judge Gregory Pulskamp of the Superior Court of California for the County of Kern granted a motion for preliminary injunction to Father Trevor Burfitt, concluding that the restrictions treated his churches worse than secular entities.
"The free exercise of religion clause in the California Constitution prohibits Defendants from treating religious activities worse than comparable secular activities. California's current Covid-related restrictions do exactly that," ruled Pulskamp.
"This Court is not in a position to rewrite the restrictions or dictate to Defendants specifically how the restrictions may be cured. However, the Court is in a position to prohibit enforcement of the restrictions against Plaintiff pending trial, and rules accordingly."
Sources:Christian Post
Sixth-grader shoots classmates in US; 3 people were injured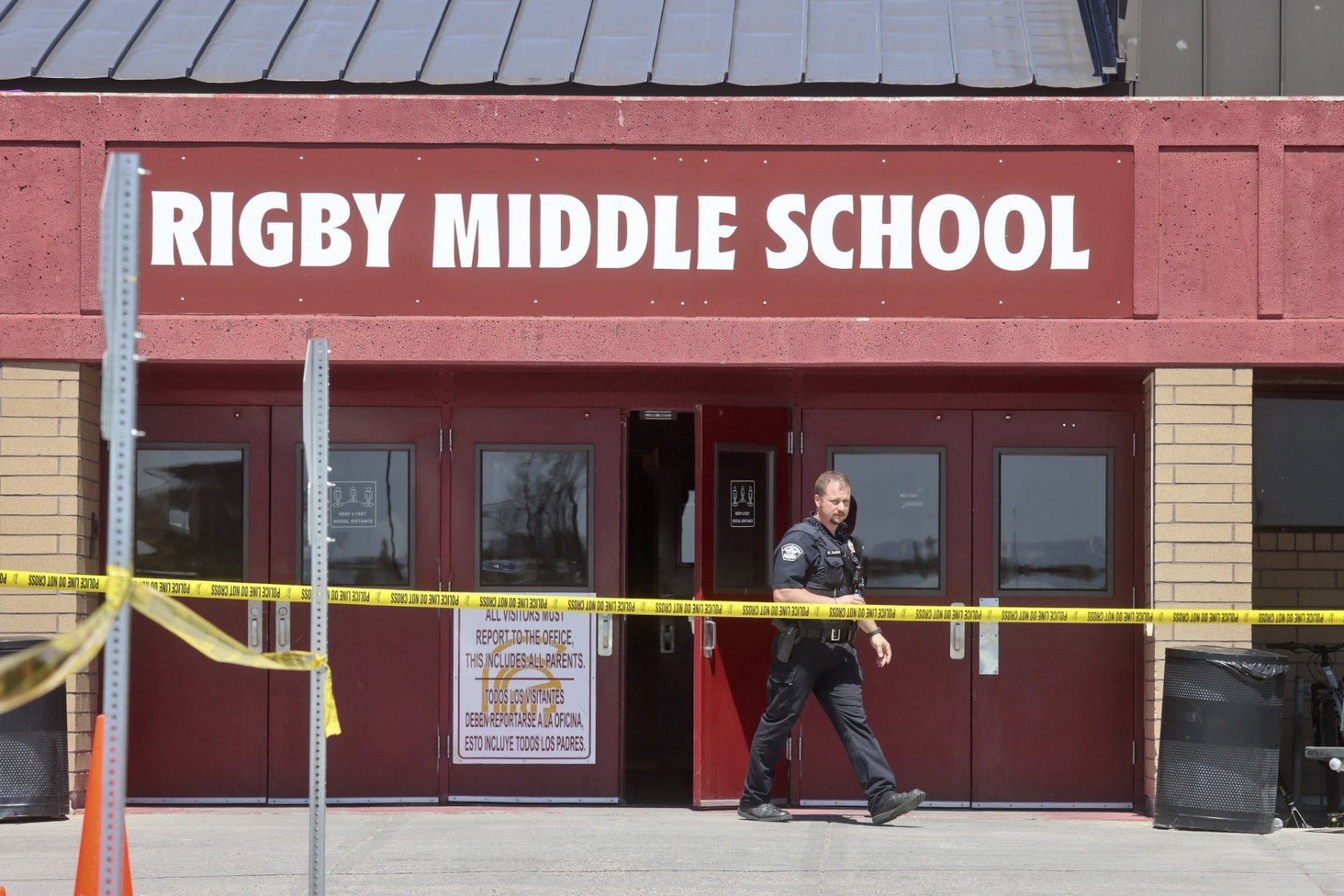 Three people, including two students, were shot Thursday at an Idaho middle school, according to officials.
At a press conference, Jefferson County Sheriff Steve Anderson said the suspect is a sixth-grade girl from Idaho Falls who is a student at Rigby Middle School, where the shooting took place. Initial reports had incorrectly identified the suspect as male.
Anderson said the unnamed student allegedly drew a handgun from her backpack and shot three people — one inside and two outside — before a teacher disarmed her.
The suspect is in custody at the Jefferson County Sheriff's Office and may be charged with attempted murder pending results of the investigation, according to Mark Taylor the county's prosecuting attorney.
The shooting victims were struck in their extremities and are expected to survive, but may require surgery, officials said
Three ambulances initially responded to Rigby Middle School after authorities learned of the shooting about 9:15 a.m. MT, Idaho Falls Fire Department spokeswoman Kerry Hammon said.
Authorities took the injured to Eastern Idaho Regional Medical Center, where they were listed as stable.
"Today we had the worst nightmare a school district could encounter. We had a school shooting here at Rigby Middle School," Jefferson School District Superintendent Chad Martin said in a statement. "What we know so far is the shooter has been apprehended. There is no further threat to the students."
"I am praying for the lives and safety of those involved in today's tragic events," Idaho Gov. Brad Little tweeted. "Thank you to our law enforcement agencies and school leaders for their efforts in responding to the incident. I am staying updated on the situation."
Nine babies in a single birth, this miracle of the extreme
Bamako: A mother who miraculously gave birth to nine children in a single delivery to the scientific world Halima Sisse, 25, gave birth to nine children. A native of Mali, an African country, she gave birth to nine babies by caesarean section. Rarely, nine babies are born in a single birth.
Even with so many babies in the womb, it is common for many babies to die before they are fully grown. A scan of Halima's pregnancy revealed that she had seven babies in her womb. Doctors said special care was needed as this was a rarity. Halima was then flown to Morocco.
However, Halima gave birth to 9 children, including 2 babies who were not even seen on the scans, even when doctors gave birth. Halima gave birth to five girls and four boys, all of whom are healthy, Malian Health Minister Fanta Cibi said.
He added that the girl and children would be returned only after a few weeks.