12,000 petitions seeking asylum in Britain for Maria Shahbaz
Rome — Maira Shahbaz was 14 years old when she was kidnapped and forced to convert to Islam last year.
The girl – a Catholic – was had been raped, then forced by the Lahore High Court to marry one of her abductors. She's one of an estimated 1,000 Christian and Hindu girls who are kidnapped, forced to convert and marry their captors in Pakistan each year.
The papal charity Aid to the Church in Need (ACN) is asking the UK Prime Minister, Boris Johnson, to grant Shahbaz asylum: She managed to escape her captors, but after receiving a series of death threats, both her and her family were forced to go into hiding.
On April 28, 2020, in Medina Town, Pakistan, Shahbaz was bundled into a car at gunpoint by three men. She was filmed and photographed being raped and was then forced to convert to Islam and marry Mohamad Nakash Tariq.
Her case went to court and she was placed in a women's shelter, before the Lahore High Court judged that she should be returned to Nakash because she had supposedly embraced Islam.
She returned to his home but managed to escape four months later. Speaking with the police at the time, she said her abductors had "threatened to murder my whole family" and shared pictures and videos that show her being raped.
Her captor answered by accusing her of apostasy, a crime punishable with death in the Muslim-majority country. He also requested the arrest of the victim's mother, her uncles, and a friend of the family, claiming that they had kidnapped the girl and taken her away from his home.
Shahbaz told the police that she hadn't converted from Christianity, but that she was instead forced to sign blank documents, with the constant threat of violence and public humiliation.
The family has requested Nakash be arrested for sex crimes involving a minor.
According to Sumera Shafique, Shahbaz' lawyer, the girl is "in constant danger because she is condemned as an apostate by her abductor and his supporters."
"Unless Maira and her family can leave Pakistan they will always be at risk of being killed," Shafique said.
On Thursday, ACN's UK office delivered a petition signed by over 12,000 people to Fiona Bruce, the Prime Minister's Special Envoy for Freedom of Religion or Belief, calling for asylum to be granted to the girl and her family, on the grounds that their lives are in danger.
In a statement released after presenting the petition, ACN quoted Bruce saying "Maira's situation, and that of her family, is a tragic one and hearts goes out to her – as demonstrated by the thousands upon thousands of people who have signed Maira's petition which I have received today."
"I am immediately drawing it to the attention of the Home Secretary for her urgent consideration," she said.
The asylum petition was organized by the papal charity as part of its "Red Wednesday" campaign that draws attention to religious persecution around the world.
Open Doors International, a Christian human rights organization, found in its latest report, that on a daily basis more than 340 million Christians suffer discrimination, inequality or active persecution in at least fifty countries in the world, a situation made worst by the COVID-19 pandemic.
In 2018-2019, 2,983 cases of Christians being killed for their faith were recorded by the international watchdog group, while there were at least 4,781 between Oct. 2019 and Sept. 2020. Over 90 percent of the deaths were in Africa, where a terrorist group blamed Christians for the coronavirus pandemic.
According to the Open Doors report, Christians in Pakistan face extreme persecution in every area of their lives, with believers who have converted from Islam facing the greatest levels of persecution, but with all Christians being considered second-class citizens.
The report also notes that Pakistan's blasphemy laws are used to target Christians, and Islamic extremist groups vehemently "defend" these laws, including extrajudicially attacking or killing those believed to have contravened them.
The open letter to the prime minister on behalf of Shahbaz has been supported by more than 30 members of parliament, bishops and charities, the statement from ACN claimed.
Among those supporting the asylum appeal is Bishop Philip Mounstephen, an Anglican prelate who in 2019 produced the Bishop of Truro's Independent Review of the Persecution of Christians for the UK foreign office.
"Tragic cases like that of Maira Shahbaz are a test case for the UK Government's commitment to put freedom and religion front and center in its foreign policy," Mounstephen told.
"I urge the Government to recognize how Maira's rights have been potentially fatally compromised and offer her asylum," he said.
Bus accident in Peru; 20 were killed and 14 were injured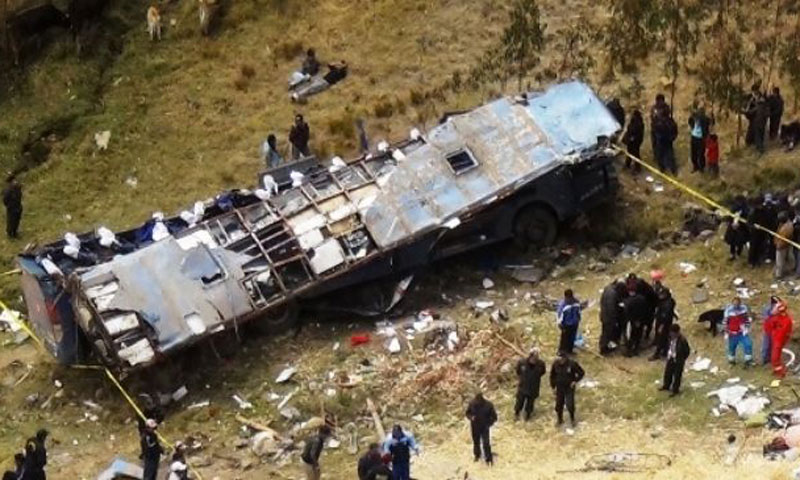 Peru: At least 20 people were killed and 14 others injured in Peru after an interprovincial bus skidded and overturned in Sihuas province in the northern Ancash region, authorities said on Monday.
According to the Parobamba district municipality on its Facebook page, the "accident left 18 people dead on the spot, with two more dying while being transferred."
The accident occurred at about 7:00 am local time on Monday in the Palo Seco area, when the bus, from the "Fama Tours SA" transport company, skidded and overturned.
It was returning from the areas of Huanchayllo and Parobamba and heading to Chimbote and Lima, after the passengers had voted in the general elections on Sunday, a local radio station reported.
Peru's transport authorities said in a statement that it "has activated all intervention protocols to gather information related to the accident for determining appropriate measures."
'The Science of Compliance': Pastor Responds to Police Barricade of GraceLife Church
"They are not interested in the science called virology. It is more like the science of compliance."
Pastor Doug Wilson of Christ Church in Moscow, Idaho, took to his blog this morning to respond to the show of force against GraceLife Church in Canada.
Wilson, who became more widely known after his series of high profile debates with famed atheist Christopher Hitchens, in which Wilson offered stiff competition and a steady stream of witty comebacks.
Wilson's piece, titled 'Putting on Our Coates Coats' confronts the disturbing news that spread across social media last week.
Coates recently served over a month in jail, only to be released and see his GraceLife Church building surrounded by fencing put up by the government. They were shut down, resulting in protests and an even larger police response.
Wilson argued that "ideas have consequences" and highlighted the differences between worldviews.
People act the way they do for reasons. As Richard Weaver taught us, ideas have consequences.
If you believe in God, if you think that the cosmos was created from nothing, if you believe that mankind was created in the image of God, then it is possible for you to believe that we have rights. And by rights, I do not mean privileges, but rather actual rights. These rights cannot be revoked by bureaucratic fiat, they cannot be abridged by executive order, and they cannot be adjusted or trimmed by the winners of elections, stolen or otherwise.
But if you don't believe in God, if you believe that this material universe is a meaningless concourse of atoms, if you believe that life originated all by itself accidentally in a primordial goo-pond somewhere, and that we are simply simians that learned to shave, then it follows of necessity that we do not have any rights at all. We are nothing more than meat and bones and protoplasm.
Wilson said "the real travesty" occurs when followers of God go along with "the dictates of those who affirm the second scenario" and shouldn't leave us surprised when a pastor like Coates stands up and "acts like a real pastor."
He went on to argue that "flat refusal to cooperate" is the only way out.
"We have no business appealing to their god with any hope of getting the kind of determination that we would get if we were appealing to our God," Wilson said.
"You can't gather figs from thistles. You can't get sweet water from a brackish spring. You know. You can't order a Whopper at MacDonalds. You will not get Christian blessings from pagan gods."
Siurces:faithwire