Biden's first military action; Bombs rained down on Syria
The United States launched airstrikes in Syria on Thursday, targeting facilities near the Iraqi border used by Iranian-backed militia groups. The Pentagon said the strikes were retaliation for a rocket attack in Iraq earlier this month that killed one civilian contractor and wounded a U.S. service member and other coalition troops.
The airstrike was the first military action undertaken by the Biden administration, which in its first weeks has emphasized its intent to put more focus on the challenges posed by China, even as Mideast threats persist. Biden's decision to attack in Syria did not appear to signal an intention to widen U.S. military involvement in the region but rather to demonstrate a will to defend U.S. troops in Iraq.
"I'm confident in the target that we went after, we know what we hit," Defense Secretary Lloyd Austin told reporters flying with him from California to Washington. Speaking shortly after the airstrikes, he added, "We're confident that that target was being used by the same Shia militants that conducted the strikes," referring to a Feb. 15 rocket attack in northern Iraq that killed one civilian contractor and wounded a U.S. service member and other coalition personnel.
Biden approved air strike
Austin said he recommended the action to Biden. "We said a number of times that we will respond on our timeline," Austin said. "We wanted to be sure of the connectivity and we wanted to be sure that we had the right targets."
Earlier, Pentagon spokesman John Kirby said the U.S. action was a "proportionate military response" taken together with diplomatic measures, including consultation with coalition partners. "The operation sends an unambiguous message: President Biden will act to protect American and coalition personnel," Kirby said. "At the same time, we have acted in a deliberate manner that aims to deescalate the overall situation in eastern Syria and Iraq."
Kirby said the U.S. airstrikes "destroyed multiple facilities at a border control point used by a number of Iranian- backed militant groups," including Kataib Hezbollah and Kataib Sayyid al-Shuhada. The U.S. has blamed Kataib Hezbollah for numerous attacks targeting U.S. personnel and interests in Iraq in the past.
Did US violate international law?
Mary Ellen O'Connell, a professor at Notre Dame Law School, criticized the U.S. attack as a violation of international law.
"The United Nations Charter makes absolutely clear that the use of military force on the territory of a foreign sovereign state is lawful only in response to an armed attack on the defending state for which the target state is responsible," she said. "None of those elements is met in the Syria strike."
Biden administration officials condemned the Feb. 15 rocket attack near the city of Irbil in Iraq's semi-autonomous Kurdish-run region, but as recently as this week officials indicated they had not determined for certain who carried it out. Officials have noted that in the past, Iranian-backed Shiite militia groups have been responsible for numerous rocket attacks that targeted U.S. personnel or facilities in Iraq.
Kirby had said Tuesday that Iraq is in charge of investigating the Feb. 15 attack. "Right now, we're not able to give you a certain attribution as to who was behind these attacks, what groups, and I'm not going to get into the tactical details of every bit of weaponry used here," Kirby said. "Let's let the investigations complete and conclude, and then when we have more to say, we will."
A little-known Shiite militant group calling itself Saraya Awliya al-Dam, Arabic for Guardians of Blood Brigade, claimed responsibility for the Feb. 15 attack. A week later, a rocket attack in Baghdad's Green Zone appeared to target the U.S. Embassy compound, but no one was hurt.
Iran this week said it has no links to the Guardians of Blood Brigade.
The frequency of attacks by Shiite militia groups against U.S. targets in Iraq diminished late last year ahead of President Joe Biden's inauguration, though now Iran is pressing America to return to Tehran's 2015 nuclear deal. The U.S. under the previous Trump administration blamed Iran-backed groups for carrying out the attacks. Tensions soared after a Washington-directed drone strike that killed top Iranian Gen. Qassem Soleimani and powerful Iraqi militia leader Abu Mahdi al-Muhandis last year.
Trump had said the death of a U.S. contractor would be a red line and provoke U.S. escalation in Iraq. The December 2019 killing of a U.S. civilian contractor in a rocket attack in Kirkuk sparked a tit-for-tat fight on Iraqi soil that brought the country to the brink of a proxy war.
U.S. forces have been significantly reduced in Iraq to 2,500 personnel and no longer partake in combat missions with Iraqi forces in ongoing operations against the Islamic State group.
Bus accident in Peru; 20 were killed and 14 were injured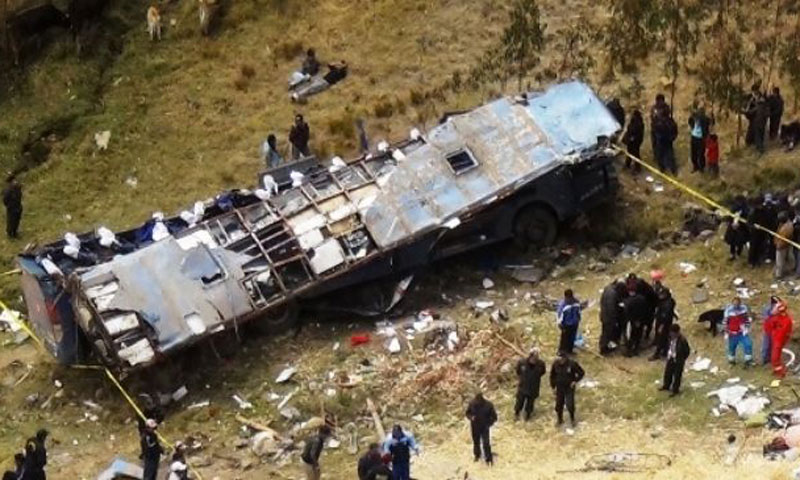 Peru: At least 20 people were killed and 14 others injured in Peru after an interprovincial bus skidded and overturned in Sihuas province in the northern Ancash region, authorities said on Monday.
According to the Parobamba district municipality on its Facebook page, the "accident left 18 people dead on the spot, with two more dying while being transferred."
The accident occurred at about 7:00 am local time on Monday in the Palo Seco area, when the bus, from the "Fama Tours SA" transport company, skidded and overturned.
It was returning from the areas of Huanchayllo and Parobamba and heading to Chimbote and Lima, after the passengers had voted in the general elections on Sunday, a local radio station reported.
Peru's transport authorities said in a statement that it "has activated all intervention protocols to gather information related to the accident for determining appropriate measures."
'The Science of Compliance': Pastor Responds to Police Barricade of GraceLife Church
"They are not interested in the science called virology. It is more like the science of compliance."
Pastor Doug Wilson of Christ Church in Moscow, Idaho, took to his blog this morning to respond to the show of force against GraceLife Church in Canada.
Wilson, who became more widely known after his series of high profile debates with famed atheist Christopher Hitchens, in which Wilson offered stiff competition and a steady stream of witty comebacks.
Wilson's piece, titled 'Putting on Our Coates Coats' confronts the disturbing news that spread across social media last week.
Coates recently served over a month in jail, only to be released and see his GraceLife Church building surrounded by fencing put up by the government. They were shut down, resulting in protests and an even larger police response.
Wilson argued that "ideas have consequences" and highlighted the differences between worldviews.
People act the way they do for reasons. As Richard Weaver taught us, ideas have consequences.
If you believe in God, if you think that the cosmos was created from nothing, if you believe that mankind was created in the image of God, then it is possible for you to believe that we have rights. And by rights, I do not mean privileges, but rather actual rights. These rights cannot be revoked by bureaucratic fiat, they cannot be abridged by executive order, and they cannot be adjusted or trimmed by the winners of elections, stolen or otherwise.
But if you don't believe in God, if you believe that this material universe is a meaningless concourse of atoms, if you believe that life originated all by itself accidentally in a primordial goo-pond somewhere, and that we are simply simians that learned to shave, then it follows of necessity that we do not have any rights at all. We are nothing more than meat and bones and protoplasm.
Wilson said "the real travesty" occurs when followers of God go along with "the dictates of those who affirm the second scenario" and shouldn't leave us surprised when a pastor like Coates stands up and "acts like a real pastor."
He went on to argue that "flat refusal to cooperate" is the only way out.
"We have no business appealing to their god with any hope of getting the kind of determination that we would get if we were appealing to our God," Wilson said.
"You can't gather figs from thistles. You can't get sweet water from a brackish spring. You know. You can't order a Whopper at MacDonalds. You will not get Christian blessings from pagan gods."
Siurces:faithwire