Nigerian Authorities Searching For 317 Schoolgirls Kidnapped By 'Armed Bandits'
Nigerian authorities are searching for hundreds of schoolgirls who were kidnapped by gunmen in a raid early Friday morning, according to police in the northwestern state of Zamfara.
Police Commissioner Abutu Yaro told reporters that 317 girls had been kidnapped from Government Girls Science Secondary School in the town of Jangebe, according to its principal. He said that efforts to trace the kidnappers and retrieve the students are underway and that authorities were looking into information that they had been moved to neighboring forests.
"All of us are angry, and all of us are sad," he said. "Despite that we need to have a coordinated response in order to [save lives] and bring the children back home."
Yaro emphasized the importance of exercising caution and care, and urged people to remain calm. According to local media reports, scores of residents incensed by the abduction stormed the streets of Jangebe, creating roadblocks and using sticks and stones to attack vehicles carrying journalists to the school. A cameraman was injured in the process.
Citing a police spokesperson, Nigerian newspaper Punch reported that Zamfara State Police Command is working with the military to conduct joint search and rescue operations for the students, who he said were kidnapped by "armed bandits."
An unnamed school staff member told the newspaper that the gunmen — some wearing uniforms and pretending to be security personnel — arrived at the school with pickup trucks and motorcycles around 1 a.m. on Friday then "broke into the students' hostels" and "forcefully evacuated" them.
"When they came into the school, we thought they were security personnel, but to our utmost fear and dismay, they started putting the girls into Hilux vehicles and motorcycles then drove out of the school," the staff member said.
The armed kidnappers fired sporadically during the raid, Zamfara's information minister told Reuters.
It's the latest in a string of abductions in northern Nigeria and comes just over a week after gunmen kidnapped 42 people at a boarding school in the north-central state of Niger in an attack that left one student dead. In December, the northwestern state of Katsina saw two mass kidnappings eight days apart.
In a statement issued Friday condemning the attack, UNICEF's Nigeria representative Peter Hawkins acknowledged the Nigerian government's efforts to secure the kidnapped students' release and called on it "and all concerned" to make schools safer.
"This is a gross violation of children's rights and a horrific experience for children to go through — one which could have long-lasting effects on their mental health and well-being," he said.
Amnesty International called the abduction a "serious violation of international humanitarian law" that undermines the right to education for thousands of students in the region. It said the abducted students are at "serious risk of being harmed" and called on authorities to take all measures to ensure the girls' safe return, along with that of all students still in the custody of armed groups.
Most notoriously, some 100 of the more than 270 schoolgirls abducted by militant Islamist group Boko Haram in 2014 are still missing.
"Education is under attack in northern Nigeria," Amnesty International tweeted. "Schools should be places of safety, and no child should have to choose between their education and their life. Other children have had to abandon their education after being displaced by frequent violent attacks on their communities."
Bus accident in Peru; 20 were killed and 14 were injured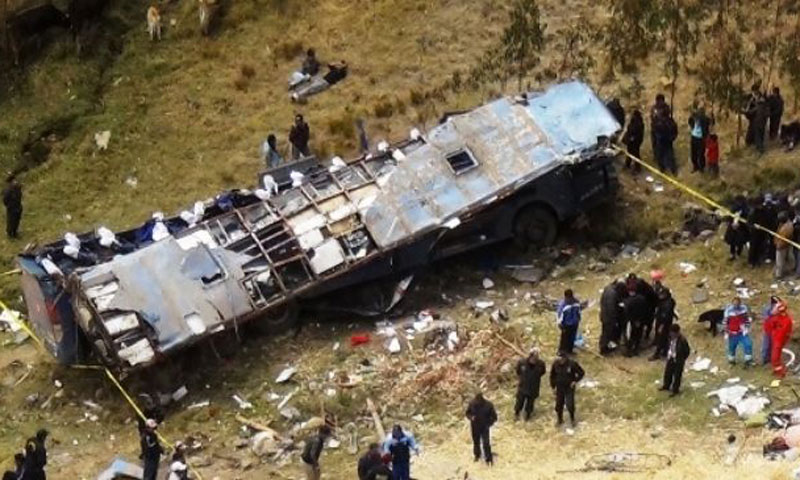 Peru: At least 20 people were killed and 14 others injured in Peru after an interprovincial bus skidded and overturned in Sihuas province in the northern Ancash region, authorities said on Monday.
According to the Parobamba district municipality on its Facebook page, the "accident left 18 people dead on the spot, with two more dying while being transferred."
The accident occurred at about 7:00 am local time on Monday in the Palo Seco area, when the bus, from the "Fama Tours SA" transport company, skidded and overturned.
It was returning from the areas of Huanchayllo and Parobamba and heading to Chimbote and Lima, after the passengers had voted in the general elections on Sunday, a local radio station reported.
Peru's transport authorities said in a statement that it "has activated all intervention protocols to gather information related to the accident for determining appropriate measures."
'The Science of Compliance': Pastor Responds to Police Barricade of GraceLife Church
"They are not interested in the science called virology. It is more like the science of compliance."
Pastor Doug Wilson of Christ Church in Moscow, Idaho, took to his blog this morning to respond to the show of force against GraceLife Church in Canada.
Wilson, who became more widely known after his series of high profile debates with famed atheist Christopher Hitchens, in which Wilson offered stiff competition and a steady stream of witty comebacks.
Wilson's piece, titled 'Putting on Our Coates Coats' confronts the disturbing news that spread across social media last week.
Coates recently served over a month in jail, only to be released and see his GraceLife Church building surrounded by fencing put up by the government. They were shut down, resulting in protests and an even larger police response.
Wilson argued that "ideas have consequences" and highlighted the differences between worldviews.
People act the way they do for reasons. As Richard Weaver taught us, ideas have consequences.
If you believe in God, if you think that the cosmos was created from nothing, if you believe that mankind was created in the image of God, then it is possible for you to believe that we have rights. And by rights, I do not mean privileges, but rather actual rights. These rights cannot be revoked by bureaucratic fiat, they cannot be abridged by executive order, and they cannot be adjusted or trimmed by the winners of elections, stolen or otherwise.
But if you don't believe in God, if you believe that this material universe is a meaningless concourse of atoms, if you believe that life originated all by itself accidentally in a primordial goo-pond somewhere, and that we are simply simians that learned to shave, then it follows of necessity that we do not have any rights at all. We are nothing more than meat and bones and protoplasm.
Wilson said "the real travesty" occurs when followers of God go along with "the dictates of those who affirm the second scenario" and shouldn't leave us surprised when a pastor like Coates stands up and "acts like a real pastor."
He went on to argue that "flat refusal to cooperate" is the only way out.
"We have no business appealing to their god with any hope of getting the kind of determination that we would get if we were appealing to our God," Wilson said.
"You can't gather figs from thistles. You can't get sweet water from a brackish spring. You know. You can't order a Whopper at MacDonalds. You will not get Christian blessings from pagan gods."
Siurces:faithwire