* while making the dough of puri add little milk to it,puri will be very soft.
* While making Green chatni ( Fudina & Dhania ) Add 2-3 spoon card in it. Its becomes tasty & attractive colour.
* when u make green gravy or green vegetable put a little bit of sugar in the oil n then add masalaas.
* To store green chillies longer,remove the stalk and keep in tight glass bottles in the fridge.
* To save your sugar from ants put some cloves in the jar.
* when u make roti or chpati or paratha , put 1 medium spoon yogurt in dough [ aata ],insted of oil, u will make soft roti,without oil .
* Keep boiled eggs in cold water for 5 minutes, this will make removal of the shell easier.
* Boiled eggs will last longer, if you store the shelled eggs in a bowl of cold water in a refrigerator.
* Keep the gas stove in sim mode, after the dish gets the boiling state. Use the small burner always. So yr cylinder comes for long days.
* Barley powder will increase the taste of meat and vegetable curries.
* You can make tasty chappathi by mixing equal proportion of wheat flour and barley.
* Adding turmeric will help pickles from getting spoilt.
* Leafy vegetables will remain fresh longer, if wrapped in news papers when you are storing.
* When you cook dal add some refined oil or garlic. It will reduce gas trouble.
* Green peas will retain their original colour, if you add a pinch of sugar while boiling.
* If the curd is too sour, add 4 cups of water to it. After half an hour, remove the water collected on top
* To adjust salt in curries add roasted rice powder.
* Add 1/2 teaspoon of baking soda while mixing the dough for 'chappathi' to make it soft.
* Add a pinch of sugar while cooking spinach, it will retain its green colour.
* If you want to make crispy potatoes or banana chips, sprinkle salt water over them while frying.
* If u want a thick gravy add some maida to few tablespoons of water and mix well till maida dissolves, add this to loose gravy and it will become thick.
* To cook onions fast add little salt or sugar while frying them in oil.
* If salt is more in dish, then add some tomato juice in it. It will make the salt less..
* Garlic skin comes off easily if the garlic flakes are warmed a little before peeling.
* Before frying the potatoes just soak the potato pieces in the buttermilk and allow them 2 fry,it will be very tasty and soft.
* Mix some vinegar before frying the fish, it will make good taste.
* If u cut brinjal for cooking and keep, it turns black so to avoid this put some salt in water and keep the brinjal in it,this will not turn them black .
* While making dough of chapati add little milk and oil,it will be very soft.
ഐ പി സി നോര്‍ത്തേണ്‍ റീജിയന്‍ കണ്‍വന്‍ഷന്‍
ഐ പി സി നോര്‍ത്തേണ്‍ റീജിയന്റെ നേതൃത്വത്തില്‍ വെര്‍ച്വല്‍ കണ്‍വന്‍ഷനും സംയുക്ത ആരാധനയും നടക്കും. 2020 ഒക്‌ടോബര്‍ 15 വ്യാഴം മുതല്‍ 18 ഞായര്‍ വരെ നടക്കുന്ന യോഗങ്ങള്‍ ഐപിസി എന്‍ ആര്‍ ജനറല്‍ പ്രസിഡന്റ് പാസ്റ്റര്‍ സാമുവല്‍ ജോണ്‍ ഉദ്‌ഘാടനം ചെയ്യും. യാഗങ്ങളില്‍ സുവിശേഷ പ്രഭാഷകരായ പാസ്റ്റര്‍ ഷിബു തോമസ്, പാസ്റ്റര്‍ വില്‍സണ്‍ വര്‍ക്കി, പാസ്റ്റര്‍ പോള്‍ മാത്യൂ എന്നിവര്‍ മുഖ്യ പ്രാസംഗീകര്‍ ആയിരിക്കും.
ഇവരെ കൂടാതെ ഐപിസി എന്‍ ആര്‍ ലീഡേഴ്‌സും വിവിധ സെക്ഷനുകളില്‍ ബൈബിള്‍ ക്ലാസ്സുകള്‍ എടുക്കുന്നതാണ്. വ്യാഴം മുതല്‍ ശനി വരെ എല്ലാ ദിവസവും രാവിലെ 10 മുതല്‍ 1 വരെ ബൈബിള്‍ ക്ലാസ്സുകളും, വൈകുന്നേരം 6 മുതല്‍ 8 വരെ പൊതുയോഗവും ഉണ്ടായിരിക്കും.
ഐപിസി എന്‍ ആര്‍ സഭകളുടെ സംയുക്ത ആരാധന ഞായറാഴ്ച രാവിലെ 10 മുതല്‍ 12 വരെ നടക്കും. സൂം പ്ലാറ്റ്‌ഫോമില്‍ നടക്കുന്ന യോഗങ്ങള്‍ എല്ലാ ദിവസങ്ങളിലും ഫെസ്ബുക്കിലൂടെയും, യൂട്യൂബിലൂടെയും തത്സമയം വീക്ഷിക്കാവുന്നതാണ്. പ്രശസ്ത ഗായിക സിസ്റ്റര്‍ പെര്‍സിസ് ജോണ്‍ നേതൃത്വം നല്‍കുന്ന ക്വയര്‍ സംഗീത ശുശ്രൂഷ നിര്‍വഹിക്കും.
Pakistani Christian Family Fights to Register Police Report Against People Harassing Their Worship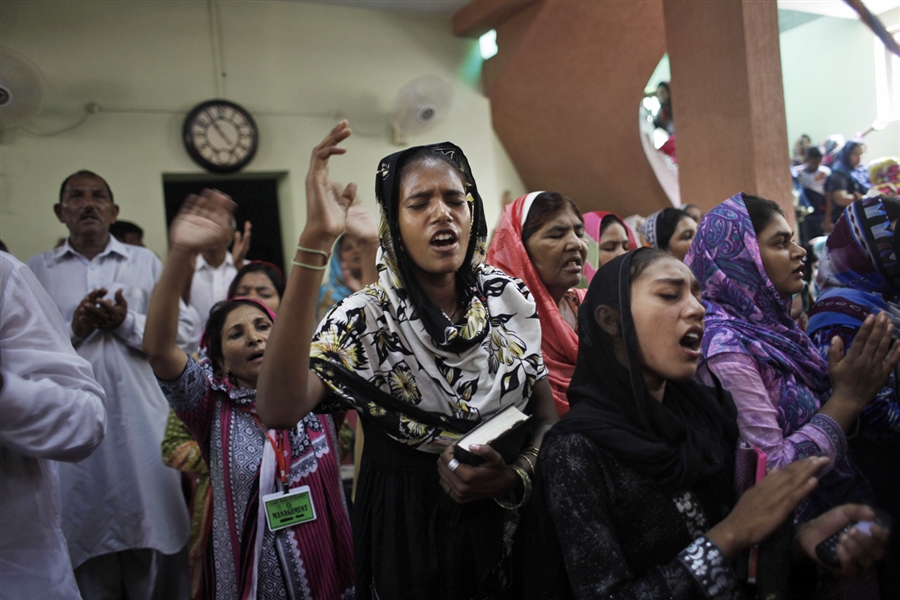 Pakistan– On May 23, Sherry Masih and his family were attacked by a group of Muslim men who were disturbing them as the family was holding a prayer service in their home. The incident took place in Sabri Colony, located in the city of Phoolnagar.
"Masih reported the attack at the local police station, however, police were reluctant to register the case against the attackers," Dr. Riaz Aasi, Chairman of the Alpha Human Rights Care Association, told International Christian Concern (ICC). "Masih argued with police and police put Masih behind bars for three days and repeatedly beat him."
"The police pressured Masih to withdraw his application against Malik Sabir, Malik Babar, Malik Ali and Boota Kumhar, the attackers," Dr. Aasi explained to ICC. "However, Masih refused and as a result he was abused and beaten in police custody. The officers forcibly collected thumb impressions from Masih on a blank paper before he was released from the lockup."
On May 26, the group of Muslims once again attacked Masih's home. They beat the entire family without consideration of gender or age. As a result, Masih's sister, Rabia, had her nose broken.
"When the Christian neighbors reached to help Masih's family, the attackers started aerial firing and managed to escape. Once again, police did not cooperate with the Christian family," Dr. Aasi said. However, after a month's struggle, Dr. Aasi helped the family lodge FIR # 227/20 against the attackers. However, to date, no arrest or further investigation has been reported.
Sources:Persecution