Mass arrests of Chinese megachurch members continue; some 'violently beaten'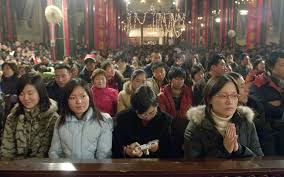 Nearly 50 more members, including 11 kids, of a Chinese megachurch closed down by the communist government in December were arrested at two different venues last Sunday reported.
Following the closing of Chengdu's Early Rain Covenant Church and the arrest of its pastor, Wang Yi, on Dec. 9 for "inciting subversion of state power," government actors are continuing to harass members of the congregation as they gather for worship inside of homes.
According to an update from the church, multiple homes that were hosting prayer gatherings on Feb. 24 were surrounded by police officers who ultimately interrupted the proceedings. At two of the home church services, every person in attendance was detained.
China Aid founder Bob Fu, a well-respected human rights activist who has on a number of occasions testified before Congress, tweeted that at least 11 of those who were arrested in Chengdu received a punishment of 10 to 14 days "administrative detention."
"Arbitrary arrest continues," Fu stressed. "Walk with the these Persecuted."
There were reports of children, the elderly and even a pregnant woman being mistreated. Pastor Wang's elderly mother was reportedly insulted and beaten.
According to a statement released by the church, two Christians who were arrested were "violently beaten."
"Tang Chunliang and his wife were hit in the face by a plainclothes police officer at the police station," the update reads. "Some, including children, did not eat anything. Some were not released until 2:00 a.m. Tired children slept on ice-cold tables and floors. Others were not released until 6:00 a.m."
On Saturday, two more churchgoers were arrested when they went to the Chengdu Police Station to visit their detained friends.
"They were then taken to the Taisheng Road Police Station, where they were locked up and interrogated," a March 2 statement from the church reads. "At 2:00 p.m., while being interrogated, they were personally humiliated, abused, and violently beaten by seven to eight police officers from the Chengdu Taisheng Road Police Station. They were detained for nearly eight hours."
Arrests and detentions are not the only forms of harassment the Early Rain Covenant members have faced. According to the church, authorities have put pressure on landlords and employers. This has resulted in some churchgoers losing their homes and jobs. Some have had to move back to their hometowns.
At least one family of a church elder has been forced to move on multiple occasions as they have been deemed "illegal residents."
"Each time they are evicted, they find a new place to live," a church statement from Feb. 22 reads. "Then, after they've spent a few days adapting to their new home, police and national security come to their door and, through various methods, drive the family out of their home again."
In December following the arrest of Pastor Wang, over 160 church members were arrested.
China ranks as the 27th worst country in the world when it comes to the persecution of Christians, according to Open Doors USA's 2019 World Watch List.
Last year, Fu warned that the Chinese government is supervising a plan to rewrite the Bible in its attempt to "sinicize" Christianity.
China's crackdown on non-state-sponsored religion has seen the demolition of churches and the removal of hundreds of crosses from churches.
"Religious freedom in China has really reached to the worst level that has not been seen since the beginning of the Cultural Revolution by Chairman Mao in the 1960s," Fu told members of the House Foreign Affairs' Subcommittee on Africa, Global Health, Global Human Rights, and International Organizations last September.
Irish Bishop Against Practicing Yoga in Christian Schools
An Irish bishop has written to Catholic schools urging them to ban yoga as it is 'not of Christian origin' and the children should spend their time 'in adoration of Jesus' instead.
Bishop Alphonsus Cullinan, wrote to principals, teachers and school staff members in Waterford City and County, Ireland, on October 10.
In his letter, he said: 'Yoga is not of Christian origin and is not suitable for our parish school setting and especially not during religious education time.
'I have been asked by several people to say a word on yoga and mindfulness. My question is, 'Will they bring us closer to God or replace him?'
The bishop claimed that Christian Mindfulness is 'meditation on Christ' which empties the mind of 'everything unnecessary' in order to become 'aware of the presence and love of Christ'.
While he also quoted Pope Francis that practices like yoga are 'not capable of opening our hearts up to God'.
The bishop added how people can 'take a million courses in spirituality' but this activity 'will never be able to give you freedom', echoing Pope Francis's speech in 2015.
He said Pope Francis's philosophy was in keeping with Ireland's Grow In Love programme. This touches on Christian doctrine, Scripture, morality and prayer.
Teacher's were reminded that October is the 'month of the Rosary' and they should each pray in a bid to get closer to Jesus, in the letter.
But the primary school curriculum allows a degree of flexibility about how its implemented, according to the Irish National Teachers Organisation, who hit-back at his view.
John Stokes, a yoga instructor in Waterford, said the practice of yoga, meditation and mindfulness should be 'embraced' in 'an age where children are really suffering from anxiety and stress'.
'There is no dogma taught in our classes and Yoga in it's truest sense is a movement and breath awareness practice for health and wellbeing.
They said 'here's to tolerance, love and unity' and invited him to a one-to-one yoga session or class of his choice' at their Wellness Centre in Youghal, Ireland.
The Irish National Teachers Organisation said the primary school curriculum allows schools a certain amount of flexibility and autonomy with regard to its implementation.
They said the schools 'are best placed' to make the decisions about how the subjects are taught, taking into consideration the 'school culture, ethos and needs of the pupils'.
This is not the first time Bishop Cullinan has received backlash for his views as he said he was to establish a 'delivery ministry' group to rid people of the devil through exorcism, last year.
He also claimed the cervical cancer vaccine could lead to promiscuity in 2017.
The bishop said the vaccine 'lulls girls into false sense of security' and encourages sexual activity, adding: 'Prevention, the number one and most effective protection, is abstinence. A good old traditional value.'
He later apologised and admitted he was not fully informed about the vaccination programme. Cullinan's 'intention was solely motivated to protect people from HPV'.
China Demolishes 3,000-Seat Megachurch during Worship Service
The People's Republic of China destroyed a church that reportedly could seat 3,000 people and detained its pastors, according to a human rights organization.
An international nonprofit Christian human rights group based in Texas, reported the incident in a statement released Saturday. According to the group, Chinese authorities provided no legal papers to justify the demolition.
The church was located in Funan, Anhui province. Its pastors, Geng Yimin and Sun Yongyao, were detained under suspicion of "gathering a crowd to disturb social order."
China Aid President Bob Fu said in a statement that the incident was "yet another clear example showing the escalation of religious persecution today by the Chinese Communist regime."
"The total disregard of religious freedom's protection as enshrined in the Communist Party's own Constitution tells the whole world President Xi is determined to continue his war against the peaceful Christian faithful. This campaign will surely fail in the end."
While China's persecution of religious groups has existed for many years, recently under President Xi Jinping a wave of crackdowns on religious practices in China has taken place.
The Communist government has destroyed or damaged several churches, reflecting concerns about the increasing Christian population of the country.
In the summer, True Jesus Church in Henan province was razed to the ground, according to persecution watchdog Bitter Winter. Police officers reportedly dragged out all believers from the church before they demolished the property.
Bitter Winter also reported last month that the Ten Commandments have been removed from nearly every Three-Self church and meeting venue in a county of Luoyang city and replaced with the President Xi Jinping's quotes as part of the Chinese Communist Party's efforts to "sinicize" Christianity.
In addition to cracking down on its Christian minority, China has engaged in violent persecution of its Uighur Muslim and Falun Gong communities.
The China Tribunal, a human rights group, told the United Nations Human Rights Council last month that the Chinese government is harvesting organs from religious minorities, with possibly hundreds of thousands of victims.
"Forced organ harvesting from prisoners of conscience, including the religious minorities of Falun Gong and Uighurs, has been committed for years throughout China on a significant scale, and that it continues today. This involves hundreds of thousands of victims."
"Victim for victim and death for death, cutting out the hearts and other organs from living, blameless, harmless, peaceable people constitutes one of the worst mass atrocities of this century."