Sudan opens path toward religious freedom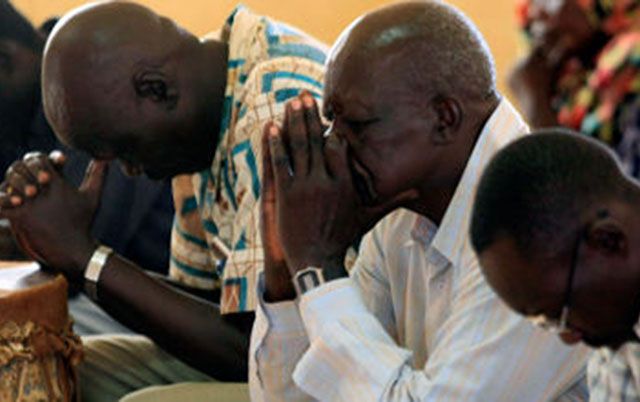 In what appears to be a promising positive change, Sudan's transitional government and a rebel group that fought against the Muslim-majority country's longtime authoritarian leader Omar al-Bashir, who was ousted last year, have agreed to form an independent national commission for religious freedom.
As part of the latest round of negotiations between Sudan's transitional government and the Sudan People's Liberation Movement-North (Agar) under the Juba Peace Process, an agreement was reached "to establish a commission for religious freedom to address all issues relating to religious freedom in order to affirm the principle of peaceful coexistence in the country," the Transitional Sovereign Council said on its Facebook page.
The SPLM-N armed group is based in Sudan's predominantly Christian South Kordofan and Blue Nile states, which fought against al-Bashir.
"Today we have agreed to establish the religious freedom commission because the Two Areas have a considerable number of Sudanese Christians, so this is an important issue that has been resolved," the armed group's Deputy Leader and chief negotiator Yasir Arman was quoted as saying by the U.K.-based group Christianity Solidarity Worldwide.
The two parties have also agreed to create a Ministry for Peace and Human Rights.
The U.S. Commission on International Religious Freedom has acknowledged improvements in the country's religious and political atmosphere.
After a visit to that country in February, the commission's chair, Tony Perkins, expressed optimism.
"We are grateful to Prime Minister Hamdok and other members of the country's bold transitional leadership who met with USCIRF to convey their explicit desire to bring a new era of openness and inclusivity to their country that suffered for 30 years under brutal and autocratic religious repression," he said, according to Crux.
"At the same time, we understand that the country's challenges are deeply-rooted, and we urge the leadership to move quickly to turn that optimism into tangible and meaningful reforms for all people across Sudan, such as acting to formally repeal Article 126 of the 1991 penal code, which outlaws apostasy," he added.
Since 2010 and the separation of South Sudan, the persecution of Christians had "intensified with church land being confiscated by the state, church leaders facing trial for national security crimes and latterly misdemeanors," CSW's Kiri Kankhwende was quoted as saying. "General harassment of the Christian community, human rights defenders working on FoRB by the intelligence service; harassment of women and interference with the administration of churches and confiscation of private land owned by Christian businessmen."
Nasreldin Mofreh, Sudan's Minister of Religious Affairs, signed an order in March requiring the dissolution of church councils that international advocates said legitimized the former government's confiscation of church properties.
"We are pleased by the minister's decree, given the role these illegitimate church councils played in the former regime's persecution of Christians and the obstacles they continued to present to churches' ability to represent their own interests to the government," Perkins said in a statement.
Prime Minister Hamdok and other transitional government officials met with USCIRF in Washington, D.C., during a visit last December — the first time in three decades that Sudanese leaders had visited Washington, D.C.
The officials also shared at the time how they planned to expand religious freedom in a country that is ranked as the seventh-worst in the world when it comes to Christian persecution, according to Open Doors USA's World Watch List.
Last month, Sudan's new leaders also outlawed the practice of female genital mutilation, The New York Times reported. Nearly 90% of Sudanese women have been subjected to the practice, which involves the partial or total removal of external female genitalia.
Sources: Christian Post
Xiamen Authorities Ban Xunsiding Church's Campus
China – A well-known house church in China's Xiamen city, previously banned by local authorities, received another administrative punishment on February 24 for setting up a campus at an office building.
According to Xunsiding Church's Pastor Yang Xibo, he was out that day preaching, so his wife Wang Xiaofei received the decision letter from Siming District Ethnic and Religious Affairs Bureau instead. Pastor Yang also received a similar notice in 2019.
The letter stated that Wang did not receive approval from the religious affairs bureau before setting up the "Xunsiding (Church) Campus" at #2004 of Hualong Building at No.6, Hubin East Road. Her action was in violation of Art. 20, Art. 21, Art.22, Art. 40, and Art. 41 of the Regulations on Religious Affairs (RRA).
Pursuant to Art. 69 of the RRA, the Bureau decided to ban "Xunsiding Campus." Wang can file for administrative reconsideration within 60 days.
Xunsiding Church has been repeatedly harassed and raided by Siming Ethnic and Religious Affairs Bureau and local police over the last few years. Their church was last raided on December 6. A few members, including Wang Xiaofei, were brought to the police station and only released at night.
Their experience is not unique. With the Chinese government's ongoing crackdown on house churches, police raids and harassment have become a new norm for many churches that are not state-sanctioned in China.
Nigerian Schoolboys Released, 317 Schoolgirls Abducted
Nigeria– The 42 people kidnapped from the Government Science College in Niger State regained their freedom on Saturday, February 27th, one day after 317 schoolgirls were abducted by armed militants.
"The Abducted Students, Staff and Relatives of Government Science Collage Kagara have regained their freedom and have been received by the Niger State Government," tweeted Governor Abubakar Sani Bello.
The survivors were in captivity since the attack on February 17th, during which one boy, Benjamin Habila, was killed.
The news of their release comes just one day after the recent mass abduction of 317 schoolgirls in the nearby state of Zamfara. "As we welcome the news of the release of the abducted Kagara students, I urge government to expedite action on the release and safe return of the kidnapped students of Government Girls Secondary School Jangebe," stated UNICEF's Nigeria representative Peter Hawkins.
On Friday, February 26th, armed insurgents raided the all-girls boarding school in Jangebe, Zamfara, at around midnight. Schoolgirls were forced into vehicles or taken by foot to the nearby Rugu forest.
One of the girls' guardians, Saidu Kwairo, told the Washington Post that he watched from his window as trucks filled with gunmen ambushed the school campus while firing their weapons into the air. "We could hear the helpless voices of the girls screaming," Kwairo told the Washington Post, "amid the sounds of dangerous rifles."
Attacks on schools have increased over the last few years, causing concern that parents will no longer want to send their kids to school due to the lapses in security. Two months ago, 350 boys were kidnapped from a secondary school in northwestern Katsina. In 2018, Boko Haram abducting 110 girls from Government Girls' Science and Technical College in Dapchi, Yobe State. Earlier in 2014, 276 girls were abducted in Chibok, an incident which sparked outrage across the globe.
President Muhammadu Buhari stated that his administration "will not succumb to blackmail by bandits who target innocent school students in the hope of massive ransom payments."
"The recent attacks have raised concern about rising violence by armed gangs and Islamist insurgents. Jihadist group Boko Haram carries out abductions in Nigeria's turbulent northeast, as does a branch of Islamic State." Stated Reuters.
While no group has come forward to claim responsibility for the attack, terrorist groups such as Boko Haram, Fulani Militants, and ISWAP are active in northern Nigeria. Translated, Boko Haram loosely means "western education is forbidden". The groups have wreaked havoc in Nigeria for over a decade, killing tens of thousands of Christians and displacing millions in an attempt to discard western influence and impose strict Islamic Sharia law.
Please pray for the family of Benjamin Habila, that they will receive peace and comfort from the Lord as they grieve their loss. Pray for those who have experienced trauma due to the kidnappings, and for those who are still in captivity, that they will be released unharmed and return to their families. Pray for the healing of Nigeria, for the end of mass abductions and killings, and for the Lord to transform the hearts of those who persecute the church.
Sources:persecution