California Pentecostal Church loses worship ban lawsuit, appeals to Supreme Court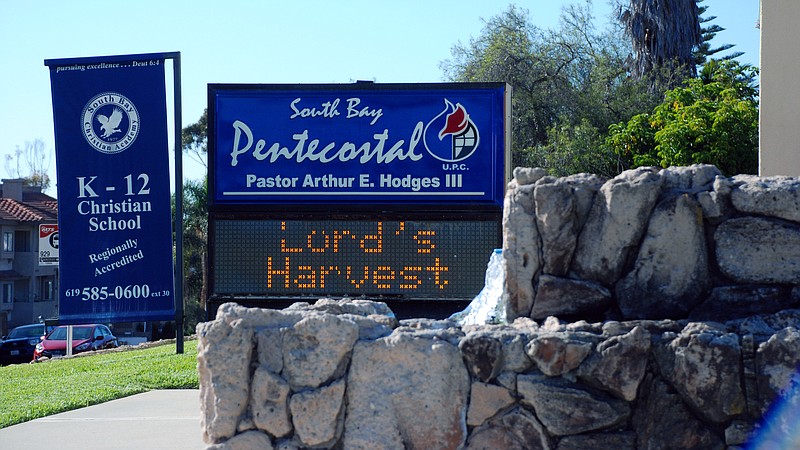 California church and its bishop filed an emergency appeal Sunday with the Supreme Court in an attempt to force California Governor Gavin Newsom to allow churches to reopen amid the pandemic.
South Bay United Pentecostal Church and Bishop Arthur Hodges lost to an appeals court last week over their lawsuit against the Democratic state leader and his ban of in-person religious services, prompting the emergency request for the country's top court to weigh in. A current shelter-in-place order prohibits churches from congregating.
As regions of the country are swiftly rolling back their social distancing measures to reopen businesses, President Donald Trump has sought to speed up the process by declaring churches "essential" and threatening to "override the governors" who refuse to immediately reopen them. The president does not have the constitutional authority to do so, and the White House has not provided the legal basis for such an argument.
However, in their request for the Supreme Court to hear the case by next Sunday, attorneys for the Southern California church and its bishop cited in their filing Trump's threat and a warning from the Justice Department telling Newsom that his restrictions were discriminatory against religion. The justices' guidance is "needed to avert a constitutional crisis," the lawyers contended, because "thousands of churches across the country and in California plan to reopen by May 31…in defiance of any state executive orders, leading to widespread civil unrest."
The appeal to the nation's most powerful justices further escalates the debate at the crossroads of public health and religious freedom. Trump argued Friday that America needs "more prayer, not less" just before the 9th Circuit Court of Appeals in California ruled against South Bay United Pentecostal Church and Hodges.
Amid the intense public pressure, Newsom tweeted Monday that counties can reopen houses of worship for some in-person services. However, there are strict constraints that will come with the religious institutions' gradual reopenings authorized under new guidelines Newsom unveiled.
With the thumbs up for county public health officials, churches in the Golden State may resume operations with 25 percent capacity or 100 people, whichever is fewer. These provisions would last for three weeks as state officials monitor for any potential spike in coronavirus cases linked to the religious gatherings.
The guidelines place the power of allowing churches to return to in-person sessions in the hands of local leaders, potentially leading to county-by-county policies that could vary widely. It remains unclear whether the Supreme Court will weigh in on the complex matter in an emergency fashion, as has been requested.
Two of the three appeals court judges who sided with Newsom's shelter-in-place order noted in their ruling Friday that the virus produces a "highly contagious and often fatal disease."
"In the words of Justice Robert Jackson, if a 'Court does not temper its doctrinaire logic with a little practical wisdom, it will convert the constitutional Bill of Rights into a suicide pact,'" the judges wrote.
Newsom's office did not respond to Newsweek's request for comment.
An attorney for Hodges and the church, Charles LiMandri, told Newsweek Monday afternoon that he planned to file a supplemental letter brief with the Supreme Court Tuesday morning outlining several points. Among the arguments LiMandri will make will be his stated position that he still considers the new guidelines "both arbitrary and unconstitutional" because it limits Hodges' church to 100 congregants and is "still interfering with their right to free exercise of religion." The church can hold 600 people, LiMandri said.
Newsom's policy is also unfair, LiMandri added, because it is applied to religious institutions but not other facilities or businesses.
"Our client has always said that he is willing to limit church attendance to one-third to one-half capacity, which is 200 to 300 people, which will still allow for mote than six feet between families," LiMandri said. "This is further unconstitutional because the State is not placing similar onerous restrictions on secular facilities, such as office work spaces (no capacity limits), manufacturing (no capacity limits), and shopping centers (50% maximum capacity limit)."
LiMandri will further contend in his filing that the Supreme Court needs to rule because there is a split among circuit courts on when it comes to statewide directives shuttering churches.
"Otherwise, various government officials can keep setting arbitrary and unconstitutional restrictions," he said, citing Illinois limiting churches to just 10 congregants and Chicago using law enforcement to enforce such restrictions.
Priests and monks abducted in Haiti have been released
HAITI – The remaining Catholic clergy who were kidnapped in Haiti earlier in April have been released, a missionary group said Friday.
The Society of Priests of Saint Jacques said the clergy were freed but did not say if a ransom had been paid.
A total of 10 people were abducted in Croix-des-Bouquets, a town northeast of the capital Port-au-Prince, on April 11, including the seven clergy — three of whom have already been released.
The clergy members were a group of four priests and a nun from Haiti, as well as one priest and one nun from France. The three non-clergy were members of the family of a Haitian priest, who was not among those kidnapped.
"Our hearts are filled with joy because we have found our colleagues, the sisters and the family members of Father Jean Anel Joseph in good health," the missionary society said in a statement, without specifying whether a ransom has been paid.
Haiti, the poorest country in the Americas, is plagued by insecurity and natural disasters.
Kidnappings for ransom have surged in recent months in Port-au-Prince and other provinces, reflecting the growing influence of armed gangs in the Caribbean nation.
Haiti's government resigned and a new prime minister was appointed in the wake of the kidnappings, a move President Jovenel Moise said "will make it possible to address the glaring problem of insecurity and continue discussions with a view to reaching the consensus necessary for the political and institutional stability of our country."
New Jersey Government with the announced  give free beer to Covid vaccine recipients
New Jersey Gov. Phil Murphy on Monday announced a new bid to boost coronavirus vaccinations: Receive your first dose in May and get a free beer.
"We're not going to be afraid to try new things," Murphy said as he unveiled the new program, dubbed "Shot and a Beer," at a press briefing.
Thirteen New Jersey-based breweries are participating in the program — which is only available to state residents ages 21 years and older, Murphy specified.
Those New Jerseyans will have to show their vaccine cards as proof before receiving their reward, the Democratic governor said.
The breweries themselves are footing the bill for the free drinks, said Murphy, who suggested more beer-makers could soon be added to the list.
The breweries currently participating are: Battle River Brewing, Bradley Beer Project, Bolero Snort Brewing Company, Brix City Brewing Company, Carton Brewing Company, Flounder Brewing Company, Flying Fish Brewing Company, Gaslight Brewery and Restaurant, Hackensack Brewing Company, Kane Brewing Company, Little Dog Brewing Company, Magnify Brewing Company and River Horse Brewing Company.
The program came from the New Jersey Department of Health in partnership with the Brewer's Guild of New Jersey.
The Garden State is hardly the first to propose an outside-the-box incentive for people to get vaccinated.
West Virginia's Republican Gov. Jim Justice last week announced an initiative to give $100 savings bonds to younger state residents who get vaccinated.
Connecticut is offering its own alcoholic incentive with its "Drinks On Us" campaign: Residents who get fully vaccinated and show their vaccine cards at certain restaurants will score a free drink between May 19 and May 31.
Incentive or no, vaccine rates are rising. More than 29% of the U.S. population is fully vaccinated, according to Johns Hopkins University, and cases and deaths from Covid are on the decline.
But a significant number of Americans say they are not willing to get vaccinated. A Monmouth University poll published in mid-April found that about 1-in-5 Americans say they won't get the shot.
That's prompting health officials and leaders at every level of government to urge more people to seek out and receive their vaccinations.
The "Shot and a Beer" campaign is just one piece of New Jersey's broader slate of programs aimed at returning the state to a more normal summer as the fight against the pandemic continues.
Murphy announced the free-beer plan after detailing the "Grateful for the Shot" initiative, which makes it possible for congregants to go from religious services directly to vaccination sites.
It's "perhaps at the other end of the spectrum" of incentives, Murphy said.