California Pentecostal Church loses worship ban lawsuit, appeals to Supreme Court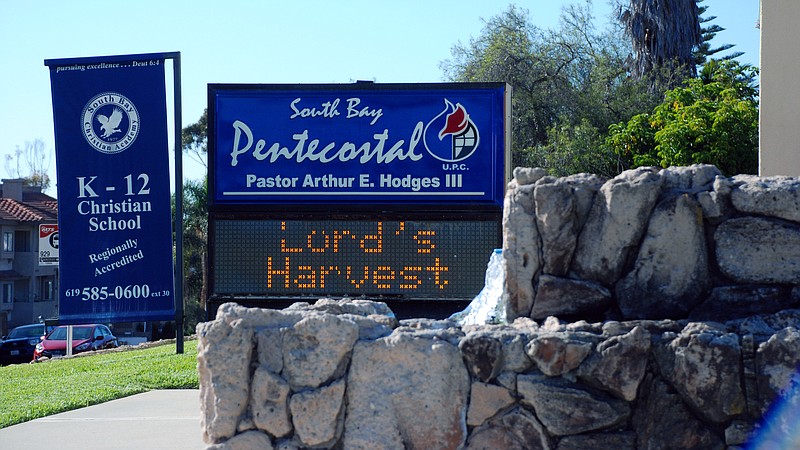 California church and its bishop filed an emergency appeal Sunday with the Supreme Court in an attempt to force California Governor Gavin Newsom to allow churches to reopen amid the pandemic.
South Bay United Pentecostal Church and Bishop Arthur Hodges lost to an appeals court last week over their lawsuit against the Democratic state leader and his ban of in-person religious services, prompting the emergency request for the country's top court to weigh in. A current shelter-in-place order prohibits churches from congregating.
As regions of the country are swiftly rolling back their social distancing measures to reopen businesses, President Donald Trump has sought to speed up the process by declaring churches "essential" and threatening to "override the governors" who refuse to immediately reopen them. The president does not have the constitutional authority to do so, and the White House has not provided the legal basis for such an argument.
However, in their request for the Supreme Court to hear the case by next Sunday, attorneys for the Southern California church and its bishop cited in their filing Trump's threat and a warning from the Justice Department telling Newsom that his restrictions were discriminatory against religion. The justices' guidance is "needed to avert a constitutional crisis," the lawyers contended, because "thousands of churches across the country and in California plan to reopen by May 31…in defiance of any state executive orders, leading to widespread civil unrest."
The appeal to the nation's most powerful justices further escalates the debate at the crossroads of public health and religious freedom. Trump argued Friday that America needs "more prayer, not less" just before the 9th Circuit Court of Appeals in California ruled against South Bay United Pentecostal Church and Hodges.
Amid the intense public pressure, Newsom tweeted Monday that counties can reopen houses of worship for some in-person services. However, there are strict constraints that will come with the religious institutions' gradual reopenings authorized under new guidelines Newsom unveiled.
With the thumbs up for county public health officials, churches in the Golden State may resume operations with 25 percent capacity or 100 people, whichever is fewer. These provisions would last for three weeks as state officials monitor for any potential spike in coronavirus cases linked to the religious gatherings.
The guidelines place the power of allowing churches to return to in-person sessions in the hands of local leaders, potentially leading to county-by-county policies that could vary widely. It remains unclear whether the Supreme Court will weigh in on the complex matter in an emergency fashion, as has been requested.
Two of the three appeals court judges who sided with Newsom's shelter-in-place order noted in their ruling Friday that the virus produces a "highly contagious and often fatal disease."
"In the words of Justice Robert Jackson, if a 'Court does not temper its doctrinaire logic with a little practical wisdom, it will convert the constitutional Bill of Rights into a suicide pact,'" the judges wrote.
Newsom's office did not respond to Newsweek's request for comment.
An attorney for Hodges and the church, Charles LiMandri, told Newsweek Monday afternoon that he planned to file a supplemental letter brief with the Supreme Court Tuesday morning outlining several points. Among the arguments LiMandri will make will be his stated position that he still considers the new guidelines "both arbitrary and unconstitutional" because it limits Hodges' church to 100 congregants and is "still interfering with their right to free exercise of religion." The church can hold 600 people, LiMandri said.
Newsom's policy is also unfair, LiMandri added, because it is applied to religious institutions but not other facilities or businesses.
"Our client has always said that he is willing to limit church attendance to one-third to one-half capacity, which is 200 to 300 people, which will still allow for mote than six feet between families," LiMandri said. "This is further unconstitutional because the State is not placing similar onerous restrictions on secular facilities, such as office work spaces (no capacity limits), manufacturing (no capacity limits), and shopping centers (50% maximum capacity limit)."
LiMandri will further contend in his filing that the Supreme Court needs to rule because there is a split among circuit courts on when it comes to statewide directives shuttering churches.
"Otherwise, various government officials can keep setting arbitrary and unconstitutional restrictions," he said, citing Illinois limiting churches to just 10 congregants and Chicago using law enforcement to enforce such restrictions.
Pastor of Jacob Blake's mother launches 40 days of humility, prayer, fasting for racial healing
Insight Church Pastor James E. Ward Jr. says he is on a mission to bring racial healing to the nation and "God's blessing to black America" through 40 Days of Humility, Prayer, and Fasting. And he's hoping America will join him.
The Skokie, Illinois, preacher recently catapulted to the national stage through his connection to Julia Jackson, one of his most devout parishioners and mother of 29-year-old Wisconsin father Jacob S. Blake, who was shot multiple times by a police officer in Kenosha on Aug. 23. Blake is currently "in a spinal injury rehabilitation center in Chicago."
His shooting was one of several primarily deadly encounters between black men and local law enforcement that sparked civil unrest over racial justice and inequality since the killing of George Floyd in the custody of Minneapolis Police Department officers in May.
"The issue that we see in society surrounding race, the protest, the rioting, those things communicate to us that there is a serious problem in our nation and unfortunately in most cases we are not … equipped to solve the problem that we know needs to be solved," Ward told The Christian Post in an interview Friday.
He is convinced that when it comes to race, America is wrestling with a deep-rooted spiritual problem that must be addressed with a spiritual response. And that's why he launched the national spiritual prayer movement on Sept. 25 that will culminate with a livestreamed prayer for the nation on Nov. 2 from Washington, D.C.
"40 Days asks all Americans to fervently pray and fast before God for racial harmony and healing in America prior to the national presidential election," the movement said in a statement to CP.
The group has also launched an initiative called the Zero Victim Community Development Corporation, which was "prayerfully designed to restore and strengthen black lives and families across our country."
"Part of the expression of our prayer is prayer with action and this new Zero Victim Development Corporation is us engaging to act on behalf of what we believe, and really beginning to target how to bring God's blessing to black America," Ward said.
Even in a socially disruptive election year when Christians remain deeply divided on issues of race and politics, Ward is convinced that if people are able to humble themselves in prayer, America can fix its race problem.
"I'm very much aware of the disparity of folks looking at what I call a singular issue through multiple lenses. And that's basically what you see happening in society where it's individuals looking at the same bottle. One person is looking at the logo on the front side and the other person is looking at the nutrition label on the backside," explained Ward.
"The exact reason we are calling ourselves to 40 days of humility, prayer and fasting, not just prayer and fasting, 40 days of humility, prayer and fasting, [is] because there's a brokenness that we have to have. We have to check our opinions, our own sentiments, self-serving ideologies, identifying selfishness in our own life. It begins with humility and when I start with humility it means I'm willing to give up and enter into surrendering into something deeper through the avenue of prayer and fasting."
Blake was shot seven times in the back by officer Rusten Sheskey on Aug. 23. The Wisconsin Department of Justice said that a woman called 911 to report that her boyfriend was present and was not supposed to be at the residence. According to audio dispatch obtained by Madison365, Blake had taken the woman's keys and refused to leave.
When officers arrived at the scene, they encountered Blake, who resisted arrest. They unsuccessfully tried to subdue him with a Taser and Blake then walked around to his vehicle at the scene with armed police officers pointing their guns at his back, according to video posted on social media. Blake opened the driver's side door of his vehicle and leaned forward. While holding onto Blake's shirt, the Wisconsin DOJ said Sheskey fired his service weapon.
Blake's family said the shooting has left him paralyzed from the waist down.
Wisconsin DOJ officials said Blake "admitted that he had a knife in his possession." It was recovered on the floorboard of the driver's side of the vehicle.
Brendan Matthews, the attorney representing Sheskey, told CNN that the officer fired the shots because he believed Blake was trying to kidnap a child as he heard a woman say, "He's got my kid. He's got my keys."
There were three children in the back of the car at the time of the shooting.
In an op-ed for The New York Times Thursday, Jacob Blake's uncle, Rick Blake, described the invisible toll of the shooting on his family, including his brother Jacob Blake Sr., affectionately called "Big Jake."
"Our story is different from those of many families whose lives have been devastated by police brutality — our Li'l Jake survived. But in mostly every other way, the experience is similar. When the cameras stop rolling, the lights fade and public attention turns away, we're left with our pain and we return to the battle against racism and for justice and reform," Rick Blake wrote.
Rick Blake described how his brother, who suffers from diabetes, heart disease and chronic neuropathy, was forced to venture out during the pandemic from his home to support his son in the hospital and how he paid dearly for it with his health.
"The toll on my brother has gone largely unnoticed — except, of course, by members of our family. One night, he sat in the dark on a rock next to the hotel where he was staying, so sick and tired he couldn't move, his hand swollen to the size of a catcher's mitt from gout. By chance, the director of the hospital where Li'l Jake was being treated found him and he was taken to the emergency room for treatment," he explained.
When asked about the Blake family's revelation, Ward replied: "I think for those of us who have never been through something like this, there is no way to imagine what it feels like."
Julia Jackson has been leaning on her faith while continuing to support her son's recovery.
"I know it has to be one of the hardest things that Julia has every dealt with and she's constantly in need, and I would say Jacob too, of prayer and I think that's one of the roles that her church family plays for her. Having a church family, having a prayer team that she's a part of, she has a core group of people around her that are there to encourage her spiritually, emotionally and mentally," Ward said.
He argued that when shootings like Blake's occur, people can sometime lose sight of the human toll they bring when they are criticized and politicized in the court of public opinion.
"There are so many negatives things spoken around these situations and publicly I don't think we always give families the space that they need to grieve," Ward said.
And it's one of the reasons he believes a new prayer movement is needed now more than ever.
"It's the people of America that need to change and when the people of America change, America will change and that's the beginning of what we are calling for right now," he said.
Sources: Christian Post
കാനഡ മലയാളി പെന്തക്കോസ്ത് പ്രാര്‍ത്ഥന സംഗമം നവംബര്‍ 7 ന്
ടൊറോന്റോ: കാനഡയിലെ മലയാളി പെന്തക്കോസ്ത് സഭകളുടെ ആഭിമുഖ്യത്തില്‍ ഈ രാജ്യത്തിനുവേണ്ടിയും സഭകളുടെ ആത്മീയ മുന്നേറ്റത്തിനും ആനുഗ്രഹത്തിനുമായി നവംബര്‍ 7 ന് വൈകിട്ട് 7 മണിക്ക് നടത്തപ്പെടുന്ന ആത്മീയ സമ്മേളനത്തിന്റെ ഒരുക്കങ്ങള്‍ പുരോഗമിച്ചു വരുന്നു.
കൊവിഡ് എന്ന മഹാമാരിയുടെ നടുവില്‍ കൂടി ലോകം കടന്നു പോകുമ്പോള്‍ കാനഡയ്ക്ക് വേണ്ടി പ്രാര്‍ത്ഥിക്കുവാന്‍ മലയാളി പെന്തക്കോസ്ത് സഭകള്‍ 7 പ്രൊവിന്‍സുകളില്‍ നിന്നും ആവേശത്തോടെ ജൂലൈ മാസം 25 ന് പ്രാര്‍ത്ഥനയായി സൂംമില്‍ കൂടി നടത്തപ്പെടുകയുണ്ടായി. കാനഡയിലെ മലയാളി പെന്തക്കോസ്ത് സഭകളുടെ ചരിത്രത്തിലെ ഒരു പുതിയ അദ്ധ്യായമായി അത് മാറുകയുണ്ടായി. #്തിന്റെ തുടര്‍ച്ചയായി നവംബര്‍ മാസം 7 ന് രണ്ടാമത് മീറ്റിംഗ് നടത്തുവാന്‍ തീരുമാനിച്ചിരിക്കുന്നു.
ഈ മീറ്റിംഗിന് നേതൃത്വം കൊടുക്കുന്നത് കാനഡ മലയാളി പാസ്റ്റേഴ്‌സ് ഫെലോഷിപ്പ് ആണ്. പാസ്റ്റര്‍മാരായ ഫിന്നി സാമുവല്‍,വില്‍സണ്‍ കടവില്‍, ജോണ്‍ തോമസ്, മാത്യൂ കോശി വന്‍കോവര്‍ എന്നിവര്‍ പ്രവര്‍ത്തിക്കുന്നു.
ഈ മീറ്റിംഗിന്റെ പ്രോഗ്രാം കോ ഓര്‍ഡിനേറ്റര്‍സ് ആയി പാസ്റ്റര്‍മാരായ ബാബു ജോര്‍ജ്, സോണി മാമന്‍, വി ടി റെജിമോന്‍ എന്നിവര്‍ വിവിധ കമ്മറ്റികള്‍ക്ക് നേതൃത്വം കൊടുക്കുന്നു. ഈ പ്രാര്‍ത്ഥന സംഗമത്തിന് ഏവരേയും ഹാര്‍ദ്ദവമായി സ്വാഗതം ചെയ്യുന്നു.