American people with Jericho prayer rally for heavenly signature on decisive verdict
A die-hard group of Trump supporters hopes 2021 will start with prayer, fasting, and perhaps a miracle.
Organizers of the Jericho March, slated for Tuesday and Wednesday, have called on "patriots, people of faith and all those who want to take back America" to travel to Washington on those days for a pair of marches to overturn the recent presidential election.
Marchers plan to blow ritual Jewish horns called shofars on the first day before circling the Supreme Court building seven times in imitation of the Israelites' siege of the city of Jericho described in the Bible's Book of Joshua. On Wednesday, they plan to do the same around the US Capitol building.
The demonstrators will also pray that Vice President Mike Pence and members of Congress will reject slates of electors from Arizona, Michigan, Wisconsin, Georgia, and Nevada, where Trump loyalists claim there was rampant election fraud.
Courts in those states, along with federal courts, including the US Supreme Court, have rejected a series of lawsuits filed by supporters of President Donald Trump, ruling that there was no evidence of election fraud. Former US Attorney General William Barr told the Associated Press in early December that the Department of Justice had found no evidence of wide-scale election fraud.
Preceding the two days of protest, the organizers will hold candlelight prayer vigils and "self-led" marches in the nation's capital. Similar marches will take place in the states where marchers claim the elections were fraudulent.
In mid-December, a rally in Washington organized by the same group of pro-Trump activists featured speakers such as Eric Metaxas and MyPillow founder Mike Lindell. The same day, members of the far-right militia the Proud Boys burned Black Lives Matter banners at two DC churches.
Metaxas and other evangelical Trump supporters have held a series of evening prayer calls featuring pro-Trump figures such as Michael Flynn, a former presidential adviser who pleaded guilty to lying to the FBI and was later pardoned by Trump, along with religious leaders who prophesied that Trump would be reelected.
Jericho March organizers said in a statement that they demand that administration officials, including Pence, intervene in the election.
"Vice President Pence has the ability to elect the President himself and Jericho March calls on him to exercise his rightful power in the face of the blatant election fraud and corruption," the group said in a statement.
Pence will preside in the Senate on Wednesday when Congress meets to confirm the votes of the Electoral College. Federal law requires him to accept the slates of electors that have been certified by states, according to legal experts.
The announcement of the Jericho March came after Republican Sen. Josh Hawley of Missouri announced he would object to the results of several states being certified. Hawley is one of a dozen GOP senators and many more House Republicans who are expected to reject Biden's win.
Conservative Republican Sen. Ben Sasse of Nebraska accused his colleagues of putting political ambition above the nation's good and trying to disenfranchise millions of American voters.
"Adults don't point a loaded gun at the heart of legitimate self-government," he wrote.
More than 2,000 religious leaders, including former World Vision president Rich Stearns, have signed a statement organized by progressive faith groups that calls on Congress to honor the election results and avoid "a delayed and drawn-out objection," the AP reported.
Several well-known anti-Trump evangelicals, including Southern Baptist author and Bible teacher Beth Moore and author and First Amendment lawyer David French, have denounced the way that evangelical supporters of the president have embraced conspiracy theories.
"I have never seen anything in these United States of America I found more astonishingly seductive & dangerous to the saints of God than Trumpism," Moore said on Twitter in mid-December. "This Christian nationalism is not of God. Move back from it."
Bus accident in Peru; 20 were killed and 14 were injured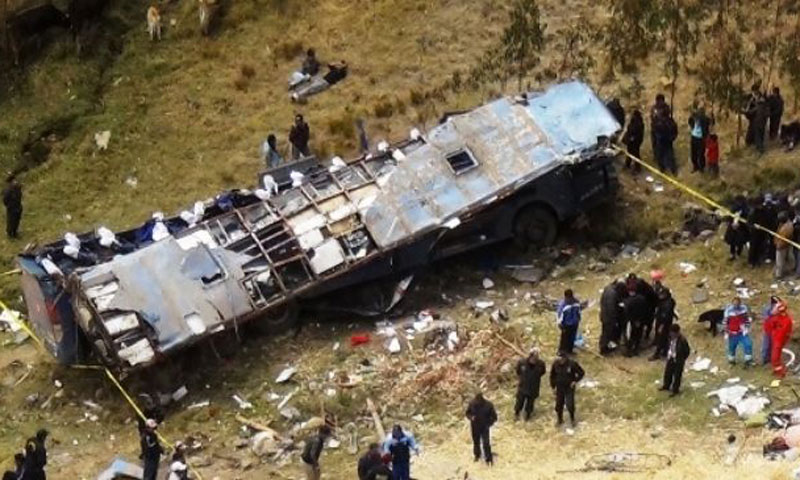 Peru: At least 20 people were killed and 14 others injured in Peru after an interprovincial bus skidded and overturned in Sihuas province in the northern Ancash region, authorities said on Monday.
According to the Parobamba district municipality on its Facebook page, the "accident left 18 people dead on the spot, with two more dying while being transferred."
The accident occurred at about 7:00 am local time on Monday in the Palo Seco area, when the bus, from the "Fama Tours SA" transport company, skidded and overturned.
It was returning from the areas of Huanchayllo and Parobamba and heading to Chimbote and Lima, after the passengers had voted in the general elections on Sunday, a local radio station reported.
Peru's transport authorities said in a statement that it "has activated all intervention protocols to gather information related to the accident for determining appropriate measures."
'The Science of Compliance': Pastor Responds to Police Barricade of GraceLife Church
"They are not interested in the science called virology. It is more like the science of compliance."
Pastor Doug Wilson of Christ Church in Moscow, Idaho, took to his blog this morning to respond to the show of force against GraceLife Church in Canada.
Wilson, who became more widely known after his series of high profile debates with famed atheist Christopher Hitchens, in which Wilson offered stiff competition and a steady stream of witty comebacks.
Wilson's piece, titled 'Putting on Our Coates Coats' confronts the disturbing news that spread across social media last week.
Coates recently served over a month in jail, only to be released and see his GraceLife Church building surrounded by fencing put up by the government. They were shut down, resulting in protests and an even larger police response.
Wilson argued that "ideas have consequences" and highlighted the differences between worldviews.
People act the way they do for reasons. As Richard Weaver taught us, ideas have consequences.
If you believe in God, if you think that the cosmos was created from nothing, if you believe that mankind was created in the image of God, then it is possible for you to believe that we have rights. And by rights, I do not mean privileges, but rather actual rights. These rights cannot be revoked by bureaucratic fiat, they cannot be abridged by executive order, and they cannot be adjusted or trimmed by the winners of elections, stolen or otherwise.
But if you don't believe in God, if you believe that this material universe is a meaningless concourse of atoms, if you believe that life originated all by itself accidentally in a primordial goo-pond somewhere, and that we are simply simians that learned to shave, then it follows of necessity that we do not have any rights at all. We are nothing more than meat and bones and protoplasm.
Wilson said "the real travesty" occurs when followers of God go along with "the dictates of those who affirm the second scenario" and shouldn't leave us surprised when a pastor like Coates stands up and "acts like a real pastor."
He went on to argue that "flat refusal to cooperate" is the only way out.
"We have no business appealing to their god with any hope of getting the kind of determination that we would get if we were appealing to our God," Wilson said.
"You can't gather figs from thistles. You can't get sweet water from a brackish spring. You know. You can't order a Whopper at MacDonalds. You will not get Christian blessings from pagan gods."
Siurces:faithwire