Cristiano Ronaldo removes cola bottles during news conference; Within hours the market value of the company was declining
On Monday, the Portugal captain removed two bottles of Coca-Cola kept in front of him at Euro 2020 press conference, encouraging people to drink water instead.
Coca-Cola's market value dropped a whopping $4 billion, from $242 billion to $238 billion, hours after footballer Cristiano Ronaldo ditched two Coca-Cola bottles for a bottle of water in a pre-match conference. The stock price of the beverage brand dropped from $56.10 to $55.22, declining 1.6%.
On Monday, the Portugal captain removed two bottles of Coca-Cola kept in front of him at Euro 2020 press conference, encouraging people to drink water instead. The 36-year-old moved the cola bottles aside as he sat down to speak to the media before Tuesday's Group F opener against Hungary.
He followed it by holding a bottle of water before shouting in Portuguese: 'Agua!'. "Agua" (water) in Portuguese in a gesture appeared to encourage people to drink water instead of aerated drinks. The video of the whole episode was shared widely on social media.
Coca-Cola is one of the official sponsors of Euro 2020 because of which the bottles were placed for marketing on the table.
In another news, France midfielder Paul Pogba removed a bottle of Heineken beer that had been placed in front of him at a Euro 2020 news conference on Tuesday, a day after Portugal captain Cristiano Ronaldo moved aside Coca-Cola bottles in a similar set-up, reported Reuters.
Pogba removed the bottle when he sat down to speak to the media after he was named 'Man of the Match' in France's 1-0 Group F win over Germany.
Laser on Caspar Smile's face, shout during national anthem; England fined Rs 27 lakh
THE ENGLISH FOOTBALL Association has been fined €30,000 by UEFA after a laser was pointed at Denmark goalkeeper Kasper Schmeichel during England's Euro 2020 semi-final win, European football's governing body announced Saturday.
The FA was also sanctioned due to "disturbances during the national anthems and setting of fireworks" by England supporters at Wembley, some of whom booed the Danish anthem.
Photos in the British press showed a laser being pointed at Schmeichel's face before the match-deciding penalty in extra time, which the Leicester 'keeper saved only to see Harry Kane score the rebound.
"I didn't notice it during the penalty kick because it was behind me on my right side," said Schmeichel.
"But I noticed it in the second half. I told the referee and I think he went out and told one of the other linesmen."
UEFA had announced the charges against England on Friday.
Gareth Southgate's men won 2-1 against Denmark and will face Italy in London on Sunday in England's first major tournament final since winning the 1966 World Cup.
Tony Cruise retires from international football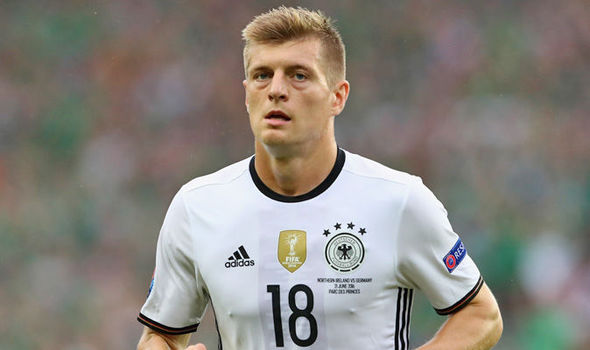 Munich: German footballer Tony Cruise has retired from international football. The 31-year-old announced his retirement on Twitter.
The player announced his retirement after Germany lost to England in the Euro Cup pre-quarterfinals. Cruz was a key player in the German midfield. In his farewell message, Cruz said that he had given everything for Germany and could not fulfill his desire to win the Euro Cup.
Cruz, who made his debut for Germany in 2010, has played 106 matches. He scored 17 goals for the country. He was a key figure in the German team that won the 2014 World Cup.
In a farewell message, Cruz said he had decided to retire before the start of the Euro Cup. Real Madrid star Cruz has made it clear that he no longer wants to focus only on matches for the club.