Anti-Christian slogans again on the walls of the Cathedral Basilica of the Immaculate Conception in Denver.
The Cathedral Basilica of the Immaculate Conception in downtown Denver was spray-painted with anti-Catholic slogans on Sunday, the latest in a series of vandalism incidents against Catholic buildings in Colorado.
Photos shared by local news reporters show slogans such as "Satan Lives Here," "White Supremacists," and "Child Rapists, LOL" written in bright red spray paint on the outside of the cathedral building, sidewalks, and on the base of a statue of St. John Paul II, who visited and stayed at the cathedral in 1993.
Father Samuel Morehead, the cathedral rector, said he was alerted about the vandalism by parishioners as they arrived to prepare for Sunday Mass.
Father Morehead told CNA that an eyewitness saw a person spray-painting the church around 7:45 am, in daylight, Oct. 10. Early indications are of a lone woman who carried out the attack, though police have not shared any information about persons of interest.
Father Morehead said police street cameras caught images of the person in the act, though he does not know if the footage is clear enough to make an identification.
The graffiti has since been cleaned off with the help of parishioners and other volunteers. The paint has been power-washed off the main doors, Father Morehead said, and a specialist is currently working to remove the paint from the cathedral's stonework.
Father Morehead said the assailant seems to have some "deep personal wounds and grievances" against God and the Church, but "it remains to be seen" what the true motive for the crime was.
A spokesperson for Denver Police confirmed to CBS4 that the department is investigating the incident.
Archdiocese of Denver spokesman Mark Haas said since February 2020, at least 25 parishes or ministry locations in northern Colorado are known to have been the target of vandalism, property destruction, or theft.
"It continues to be troubling to see the increased reports of vandalism at Catholic churches, both across the county and in our archdiocese, and it is certainly unfortunate when our parishes are targeted simply because of our beliefs," Haas said.
"We continue to pray for the conversion of those who carry out acts of desecration against our churches, statues, and religious symbols."
The cathedral sustained serious damage in mid-2020 amid racially charged protests in downtown Denver. The church building and rectory were spray painted with the slogans "Pedofiles" [sic], "God is dead," "There is no God," along with anti-police, anarchist, and anti-religion phrases and symbols.
Gates surrounding the cathedral were damaged in those protests, tear gas that was fired to disperse the protests leaked into the rectory, and the outer doors to the cathedral sustained permanent damage. Three bags of rocks were collected from the parking lot, but the cathedral's most valuable windows were unharmed. Other windows on the cathedral's campus were shattered.
In June of this year, Holy Ghost Catholic Church, also located in downtown Denver, was tagged with red graffiti in a possible reference to the ongoing controversy over former Catholic-run schools for Indigenous in Canada, though the exact motive remains unclear.
In late August, the predominantly African-American parish of Curé d'Ars, located in north Denver, was broken into and robbed. All the church's vessels used for Mass were stolen from the vestry, which the thieves accessed by kicking in a wooden door. The thieves also cut all the copper piping off of the building's furnaces downstairs and from a stairwell on the building's exterior, flooding the church basement with water.
The church's tabernacle, containing the Eucharist, was stolen from the sanctuary. Some of the stolen items have since been recovered, but the Eucharist remains missing.
Five Bible Verses to Remember When You're Overwhelmed by the News
Social media can be great; it provides a bridge to people with whom we might otherwise rarely — if ever — connect. As believers, it can also give us access to specific details, so that our prayers can be more attuned to the myriad needs that exist in the world. But if ever there was a double-edged sword, this is it.
There is all kinds of research showing social media use is inextricably linked to increases in depression and anxiety. It's no wonder: we're trying to force a round peg into a square hole. As image bearers of God, we are designed to be co-creators through communication, but social media is a poor tool for that. Rather than establishing space to create, social media calls upon our worst instincts: to react, repress, and retreat.
We are unendingly assailed by the churn of social media, constantly bombarded with discouraging, complex, and sometimes even scary information, left with only a small arsenal of often unhelpful options: reacting rather than acting, repressing rather than expressing and processing, and retreating or isolating instead of pressing in and adapting.
Human beings weren't designed to take in so much information, particularly when there is little immediate action we can take to address it. There's no doubt in social media's usefulness, but we have to learn to master it so it doesn't master us, and that starts with setting boundaries, such as taking time away from it all, limiting who we follow, and remembering we don't always have to engage, and focusing on our purpose, which is to glorify God in all things, to simply do the next right thing in front of us, and take our burdens to the Lord in prayer.
The 20th century pastor and author A.W. Tozer once wrote, "Sometimes, when we get overwhelmed, we forget how big God is." What a profound truth, particularly in the social media age.
Below are five Bible passages to keep in mind as you use social media:
PHILIPPIANS 4:6
"Do not be anxious about anything, but in every situation, by prayer and petition, with thanksgiving, present your requests to God. And the peace of God, which transcends all understanding, will guard your hearts and your minds in Christ Jesus."
Main takeaway: We don't have to carry our concerns, worries, and fears in isolation. The Apostle Paul said that in every single circumstance, we can tell God what we are feeling and, as a result, the Lord will protect our hearts and minds from the weight of this world.
ROMANS 8:26
"In the same way, the Spirit helps us in our weakness. We do not know what we ought to pray for, but the Spirit Himself intercedes for us through wordless groans."
Main takeaway: More often than not, it seems, the issues before us are too complex and troubling to understand. In this passage, Paul made it clear the Holy Spirit helps us communicate our requests to God. We can rest assured He is advocating for us in our confusion and lack.
COLOSSIANS 3:1-2
"Since, then, you have been raised with Christ, set your hearts on things above, where Christ is, seated at the right hand of God. Set your minds on things above, not on earthly things."
Main takeaway: While we should certainly be informed and engaged, we should not despair as if we have no hope. Ultimately, as Paul wrote, our lives are not determined or controlled by forces on this earth. Our security is in Jesus, and that should guide our thinking.
MATTHEW 6:30
"If that is how God clothes the grass of the field, which is here today and tomorrow is thrown into the fire, will He not much more clothe you — you of little faith?"
Main takeaway: Even if His provision doesn't look the way we think it should, God can be trusted to meet our greatest needs. If He cares enough about the earth to cover it in brilliant colors that quickly fade, how much more does God care for you, for whom He sent His Son, Jesus, to die?
ROMANS 12:2
"Do not conform to the pattern of this world, but be transformed by the renewing of your mind. Then you will be able to test and approve what God's will is — His good, pleasing, and perfect will."
Main takeaway: While we certainly ought to engage in the world, Paul warned against becoming so consumed by its trappings that we begin to mirror it. Instead, we should set boundaries and see the temporary circumstances around us through the lens of our renewed minds, which come through sanctification as a result of salvation through Jesus.
The Lord is eager to meet us in every situation and circumstance, including when we're overwhelmed by the constant flow of information fed to us by our newsfeeds. Take some time today to turn off your phone and focus on our priority: Jesus.
Sources:faithwire
Myanmar Junta Burns Church and Houses After Arresting Civilians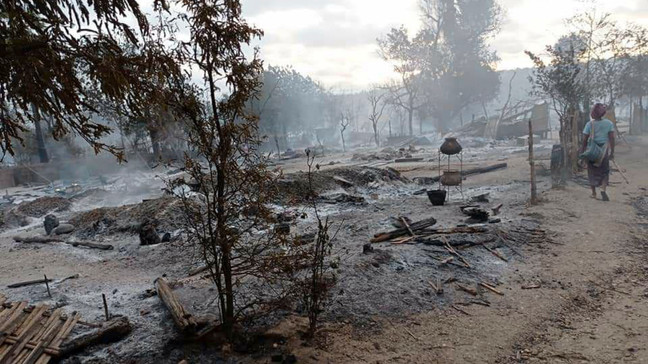 Myanmar – In a "clearance operation" aimed at eliminating the opposition in Chin state, the Burmese Army (Tatmadaw) set an entire village on fire—including a Baptist church and a dozen other buildings— before arresting several civilians.
The fighting between the Tatmadaw and Chinland Defense Forces (CDF) has intensified since August. As a Christian stronghold, Chin state has resisted the Tatmadaw for its discriminatory stance against ethnic minorities and Christianity since the February coup. For this, the junta reinforced its offensive by transporting heavy weaponry and deploying troops to Chin state.
On October 13, while the fighting intensified across the main highway between Hakha city and Falam town in the north, a military convoy, with more than 80 trucks, have arrived in Mindat town – the southern town of Chin State.
The Tatmadaw convoy was attacked about three miles outside of Falam by the CDF militia, sources told Radio Free Asia's Myanmar Service. In response, the military junta arrested four civilians, including a 13-year-old minor at Hniarlawn village.
The soldiers set up camp in Rialti village after the clash, not far from where the convoy was attacked, and began setting buildings ablaze. The Chindwin News also reports that the soldiers were seen looting the properties and killing animals such as pigs, goats, and hens.
A religious leader from the Rialti Village Baptist Church, who spoke to RFA on condition of anonymity out of fear of reprisal, said that the military initially burned eight homes around 3:00 p.m. on Wednesday, before continuing to set buildings on fire Thursday morning.
"This morning, it was the church and our warehouse—those two were set on fire earlier this morning and at about 9:00 a.m., the remaining three houses," he said.
"All were gone in a short while. The whole village, including the church, was set on fire. Eight houses were torched yesterday. In all, 13 buildings, including the church, were destroyed."
Salai Za Op Lin, deputy executive director of the India-based Chin Human Rights Organization, confirmed to RFA that the military had burned down the Baptist church and other buildings in Rialti village and called the act a "war crime," for the Tatmadaw has deliberately violated religious freedom targeting the Chin Christian communities.
According to UCA News, civilians from ethnic regions, including predominantly Christian areas in Kayah, Chin, Kachin, and Karen states, have borne the brunt of the renewed conflict where people have long faced oppression and persecution under iron-fisted military rule for more than five decades.