2 killed, 4 injured in shooting at Walmart distribution center in California
California: A shooting on Saturday at a Walmart distribution center in Red Bluff, California, left two people dead, a hospital official said.
Four other people were in fair condition, according to the official, Allison Hendrickson, a spokeswoman for St. Elizabeth Community Hospital in Red Bluff, which is about 130 miles north of Sacramento. She did not provide further details.
A Walmart employee, Franklin Lister, 51, said he and a group of other employees had just clocked into their afternoon shifts when an employee ran down the hallway shouting: "Active gunfire! Active shooter!"
Mr. Lister said he had seen blood dripping from his colleague's arm.
"That's when I realized it wasn't a drill," he said.
Mr. Lister and his co-workers ran out the nearest fire exit.
As they were running, he said, they heard 50 to 60 gunshots — at which point they picked up their speed and helped each other over a barbed-wire fence.
When Mr. Lister looked back at the building, he saw that a white vehicle had rammed into an entrance, he said. The glass that had shattered from the crash caused his colleague's arm to bleed, he said.
"To hear that much gunfire, it was frantic," said Mr. Lister, who unloads deliveries that are then repackaged and shipped to Walmart stores. "People were running as fast as they could move."
Emergency dispatchers told The Record Searchlight, a newspaper in Redding, Calif., that officials had shot the gunman in the chest around 3:45 p.m. local time, less than 15 minutes after the shooting began.
A Walmart employee, Scott Thammakhanty, told the newspaper that he had heard gunshots and had seen people on the ground as he and other employees ran. He said that the gunman looked familiar but that he did not know his identity.
A number of employees barricaded themselves in the back of the distribution center, according to police radio transmissions at the time.
The Tehama County Sheriff's Office did not immediately respond to a request for comment. A Walmart spokesman said the company would issue a statement later.
Lacie Miller, the 37-year-old assistant manager of a nearby convenience store, said employees who had gathered outside of the building said that the vehicle crash had caused a fire at the distribution center.
This is the second workplace-related shooting in two days to result in multiple deaths.
Two workers at a coffee dispenser warehouse in Springfield, Ill., were fatally shot on Friday after a co-worker opened fire, the authorities said. Another worker was critically wounded. The gunman fled and was found in his vehicle more than two hours later, dead of a self-inflicted gunshot wound, the authorities said.
Court in Pakistan Orders Arzoo Raja Stay in Shelter Home Until She Turns 18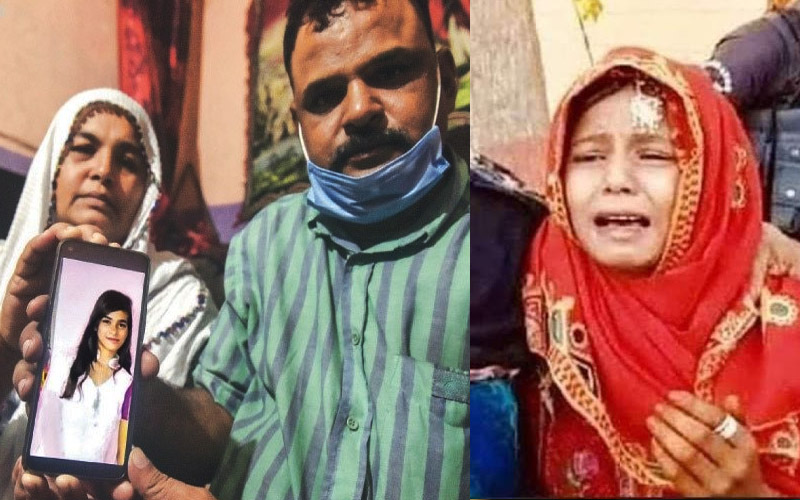 Pakistan – On Monday, November 23, the High Court in Sindh ordered that Arzoo Raja, a 13-year-old Christian girl allegedly abducted and illegally married to a 44-year-old Muslim man, remain in a government shelter home until she turns 18.
On October 13, Arzoo was allegedly abducted from her family home in Karachi by Ali Azhar, her Muslim neighbor. Arzoo's parents reported the incident to local police and were informed two days later that their daughter had converted to Islam and married Azhar.
Arzoo's parents challenged the validity of the marriage claiming it violated the Sindh Child Marriage Restraint Act. However, on October 27, the court ruled in favor of the marriage and order local police to protect Arzoo and Azhar.
On November 2, police were ordered by the High Court in Sindh to recover Arzoo and arrest Azhar. This came after Pakistan's Minister for Human Rights became involved in the case as an intervener. Arzoo was taken to a women's shelter and Azhar was arrested.
On November 9, the High Court in Sindh ruled that Arzoo was a minor and that her marriage to Azhar violated the Sindh Child Marriage Restraint Act. Arzoo returned to the women's shelter after she refused to reunite with her family and insisted that she had freely chosen to marry Azhar.
On November 23, the High Court in Sindh declined to dismiss the criminal charges against Azhar in addition to ordering Arzoo remain in the government shelter home.
"I believe it is a good verdict, because the court has not quashed the FIR registered by Arzoo's father and statutory rape of a minor has been added to it, a crime punishable with life imprisonment or death sentence," Jibran Nasir, the Christian family's attorney, told Morning Star News. "Arzoo will remain in the shelter home and reconsider her decision to not live with her parents."
"Please understand that Arzoo is reluctant to live with her parents because of the consistent brainwashing done by the accused and certain community activists for ulterior motives," Nasir added.
According to a study by the Movement for Solidarity and Peace Pakistan, an estimated 1,000 Christian and Hindu women are abducted, forcefully married, and forcefully converted to Islam every year. Many of the victims are minors. Sexual assaults and fraudulent marriages are used by perpetrators to entrap victims and authorities are often complicit.
The issue of religion is injected into cases of sexual assault to place victims from religious minority communities at a disadvantage. Playing upon religious biases, perpetrators know they can cover up and justify their crimes by introducing an element of religion.
At least 41 people have been killed in a road accident in Brazil
At least 41 people were killed and 10 injured on Wednesday when a bus and a truck crashed in southeastern Brazil, police said.
The bus, which was carrying employees on their way to work at a textile factory, collided with the truck just before 7am on a motorway outside the town of Taguai, in Sao Paulo state, police said.
"There were bodies everywhere" when rescuers arrived at the scene, a police source said.
"It was impossible to tell who had been in the truck and who had been in the bus," he added.
Authorities are still investigating the cause of the crash. The death toll, initially reported as 32, was expected to rise further, state police said in a statement.
"We know there are more victims in the wreckage of the vehicles, but we don't know how many," it said.
Police said 37 people were killed at the scene. Four more died of their injuries in hospital. Another nine people are in serious condition, they said.
"In a situation like this, blood transfusions are essential, and the worst part is that stocks are down because of the coronavirus pandemic," state health secretary Jean Gorinchteyn told television network Globo News.
Images from the scene showed the vehicles smashed into pieces, debris strewn across the road. The front end of the bus was completely torn off.
Dozens of rescuers were still busy at the scene. Taguai is about 340km (211 miles) west of Sao Paulo, Brazil's biggest city and economic capital.
"I want to send my condolences to the families and friends of the victims of this very terrible accident," said Sao Paulo Governor Joao Doria.
Local media reports said there were 53 people on the bus. The truck driver reportedly survived.
The crash was one of the worst in recent memory in Brazil, where 5,332 people died in road accidents last year.